Boosting the American dream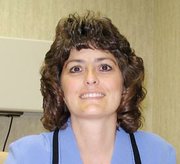 Whether working at the bank or serving the Lansing Booster Club, Teana Hundley runs a tight ship.
It's second nature by now, however: Hundley's been in the banking business for more than 20 years. Starting as a teller, Hundley excelled through the ranks of several financial institutions, eventually landing a job as assistant vice president for Citizens Savings and Loan. But she insists that the flawless record she earned through the years resulted from adherence to a few simple principles.
"There's little margin for error, and there are checks and balances in place," Hundley said, adding one secret to her success in the banking business. "Literally, (there are) lots of reports and people in front of you and behind you just dotting i's and crossing t's."
The required precision is a small price to pay for Hundley. As a home-loan officer, she now gets to help her clients realize their dreams of owning a home.
It takes a lot of work to compile the numerous forms required to secure a loan for buying a house, Hundley said. But its importance to her clients and the relationships she develops with them make it all worthwhile.
"Helping people to accomplish the American dream is what I love," she said.
And entering her second year as president of Lansing Booster Club, Hundley helps other dreams come to life, as well.
Her main goals as head of the organization were to increase membership and community involvement. So far, she said, she's been thrilled by the results. She said membership had grown by nearly 40 people since a year ago.
"This year is much better than last year," Hundley said.
Heading the Booster Club forced her to be careful in organizing her time, but Hundley said she was growing accustomed to the demands of the position.
Just like in banking, experience proves invaluable.
"This is my second year as president," she said. "And it's definitely easier the second time around."
Name: Teana Hundley
Address: 916 N. De Soto Road
Occupation: Assistant vice president, loan officer
Graduate of: Leavenworth High School
Family: Ken, husband; Chase, 17, son; Keasla, 15, daughter
How long have you lived in Lansing and what brought you here? Since 2000. We purchased a home here and I started with Citizens Savings that year.
What do you like most about Lansing? The small-town community. And the people are very family-oriented.
What do you do for fun? Attend kids' sporting events, volunteer for the Lansing Booster Club.
What would surprise people about you? That I love to cook. Cooking is relaxing for me. It's a stress release. And I like working in the yard.
What's the best advice you've ever received? Be honest with people.
What organizations or clubs do you belong to? Lansing Booster Club, Women's Council of Realtors, Tri-County Chapter; Kansas City Regional Association of Realtors.