Clifford lends hand at book fair
A book is a key to a child's imagination - it allows them to leave Kansas and travel to other worlds "where the wild things are" and a big red dog can be a best friend.
One of the beloved characters from children's books became a little more real last week.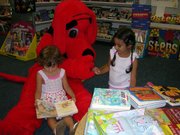 Clifford the Big Red Dog, known from the popular children's series of the same name by Norman Bridwell, was on hand to greet patrons for Lansing Community Library's annual Scholastic Book Fair.
The fair, which ran Tuesday through Saturday, Aug. 29-Sept. 2, transformed one room in the community building into a children's playland filled with colorful books for kids of all ages. Clifford welcomed patrons, gave hugs and high-fives, and posed for pictures while children and their parents shopped for books Saturday.
Darlene Dean, book fair coordinator, said the library's goal this year was $1,500 in sales. She said this is "an important number" because once reached, the library receives 50 percent of its total sales in credit to buy more books for its collection. If book sales are less than $1,500, the library receives a smaller percentage in credit.
Dean said the library met its sales goal with the addition of several last-minute purchases after the official end of the fair Saturday. Now Dean will have $750 in credit from Scholastic to purchase new children's books for the library.
"This is a major addition to our children's room every year," Dean said about the fair.
In addition to purchasing books, library patrons could donate books requested on the library's wish list or donate $1 to the "One for Books" campaign. For every dollar donated, Scholastic donates one book to these nonprofit organizations: Toys for Tots, National Center for Family Literacy and Kids in Distressed Situations, Inc.
This year Dean said the most popular books were "Fast Food," a picture book of vehicles made from vegetables by Saxton Freymann, and "Turkeys Together," a Thanksgiving-themed easy reader by Carol Wallace. Other popular books included the best-selling series "Junie B. Jones" by Barbara Park and "The Adventures of Captain Underpants" by Dav Pilkey.