Lions will try to eliminate mistakes
Lansing High football coach Bill Pekarek didn't need to go too in-depth to sum up his thoughts on his squad's season-opening 37-14 loss to Tonganoxie Friday night.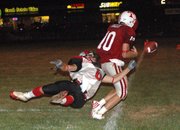 "We just need to play better," Pekarek said. "We've just got to be able to run the ball, throw it a little bit and play good defense."
Simple enough, yet to the point.
Of the three areas Pekarek identified, Lansing didn't do any of them with consistency against Tonganoxie. Pekarek said the root of the woes on offense was poor blocking.
"We had lots of blocking errors : people just not doing things the way we practice it," he said. "That's stuff they've got to know. You can't fake it. You've got to know it."
It's also stuff the Lions had been doing well in practice prior to the game.
The blocking problems were the primary reason the Lions had just 15 yards rushing compared to 227 for the Chieftains. The Lions' passing game amassed 174 yards of offense, but that total could have been greater if not for about a half-dozen dropped balls.
"We need to run the ball, and just do a better job of catching the ball when we do throw it," Pekarek said.
The defense drew some ire from the coach as well. The Lions allowed the Chieftains to amass 357 yards of total offense, but Pekarek said he was particularly disappointed that his squad was unable to contain the option.
"That really surprised me," Pekarek said. "Everybody has responsibilities on defense. We are a gap-control defense, so everybody has to take care of their own gap. We just let some runs go."
Lansing (0-1 overall, 0-1 Kaw Valley League) will try to fix its mistakes before its 7 p.m. Friday contest with Perry-Lecompton at Frank Graham Field. The Kaws (1-0, 1-0) slipped past the Immaculata Raiders 20-7 in their season-opener.
Perry will run a similar offense to Tonganoxie in that the Kaws like to run the ball up the middle and utilize the option.
Pekarek said he was more concerned about how his squad performs than about what Perry will do.
"We're better than what we showed against Tongie," he said. "Some people have got to step up and play."