Road signs tell tale of bygone ad era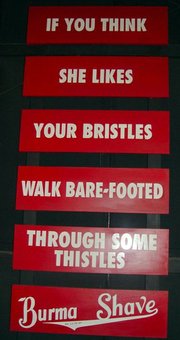 DON'T LOSE YOUR HEAD
TO GAIN A MINUTE
YOU NEED YOUR HEAD
YOUR BRAINS ARE IN IT
Burma Shave
Remember seeing signs like that along the road? When we were kids in the '30s and '40s and the roads were all two lanes and narrow, we always made dad slow down to about 30 mph, so we wouldn't miss the catchy verses of the Burma Shave signs. As the car passed we would all read the words aloud together. Burma Shave was a popular brushless shaving cream.
The signs started out as a sales pitch, but as time passed they added their sense of humor and some good old-fashioned down-home wisdom, safety tips and pure fun. The idea started in 1925 by Allan O'Dell, so his dad gave him $200 to give it a try. It was an instant success and eventually there were thousands of white-on-red background signs all over the country. They were sets of five or six spread out a hundred feet apart. The Burma Shave logo was always on the last sign by itself.
One of my first signs jobs was when Ernie and Hazel asked me to make stencils for signs similar to the Burma Shave signs to advertise products that Wendel's Garage sold. Hazel made up the verses. They sprayed the white letters on a red background and placed them along Highway 7 south of Lansing. As time went by and roads got bigger and better and cars went faster, that was the demise of that type of advertisement.
Here is a sample of what these signs would say:
SHE KISSED THE HAIRBRUSH- BY MISTAKE- SHE THOUGHT IT WAS- HER HUSBAND JAKE. Burma Shave
THE MIDNIGHT RIDE- OF PAUL FOR BEER- LED TO A WARMER- HEMISPHERE. Burma Shave
PASSING SCHOOL ZONE- TAKE IT SLOW- LET THE LITTLE- SHAVERS GROW. Burma Shave