Sargent sparks
LHS

tennis at Mill Valley Junior Varsity Invitational
If Sarah Sargent's tennis game isn't varsity caliber yet, then it is oh-so-close.
Lansing High tennis coach Rachel Elkins raved about Sargent's performance Aug. 30 at the Mill Valley Junior Varsity Invitational in Shawnee, where she placed second overall in singles.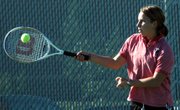 Sargent, a junior, posted a 4-0 record in pool play before dropping a 6-2 decision in the finals to a player from Blue Valley.
"Sarah played within herself to go 4-0," Elkins said. "She lost some crucial points in the final, but she really played great tennis all day."
Elkins said it was clear all day that Sargent was ready to play.
"She was early to the van," Elkins said. "During her matches she was focused. When she wasn't playing, she was watching the girls she was going to play. She was mapping her tournament. Our younger players can learn from that."
Thanks to Sargent's big day, Lansing placed fourth overall at the 10-team tournament. Baldwin was first with 23 points, followed by Blue Valley (22), Olathe Northwest (16) and Lansing (15).
Lansing's other singles competitor, Ashley Harrington, placed fourth. She dropped her first match of the day before winning her final three pool play matches. She lost to a player from Blue Valley in a tiebreaker in the third-place match.
Elkins said Harrington's ground strokes improved greatly during the tournament. Now she just has to polish up her serve.
"If she gets up to 70 percent on her first serve, I really think she's untouchable," Elkins said. "Her strokes are there. We just have to get her serve up there."
At No. 1 doubles, Ariana Domke and Briana Hall posted a 2-2 record with victories against Maranatha Academy and Spring Hill and close losses to Mill Valley and Baldwin. At No. 2 doubles, Katelyn Griffen and Sarah Nielsen went 1-3 with a victory against Spring Hill.
The LHS junior varsity home dual with KC-Washington, originally slated for today, has been canceled. The varsity squad opens its season at 9 a.m. Tuesday at Gardner.