A happy fourth
Young volleyball squad takes great strides at home tourney
It isn't often that Lansing High volleyball coach Julie Slater is pleased with a fourth-place finish, but Saturday was one of those rare occurrences for the 22nd-year coach.
Slater's Lions finished fourth for the second year in a row at the Lansing Invitational Tournament, but Slater said her main objective wasn't to hoist a tournament trophy. Instead, she was looking to see her youth-laden squad show more improvement in a tournament loaded with Class 6A heavyweights.
Photo Gallery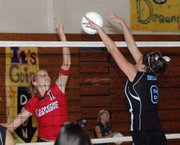 Lions place fourth at Lansing Invite.
"We've really beefed up our tournament the last few years," Slater said. "We've always had Washburn Rural in there, but now we have three 6A teams in there that are all tough. We've done that on purpose, because we're 5A now and we need to play the tough competition. I'm a firm believer in that.
It doesn't do us any good to play weaker competition, because we'll end up playing the tougher competition in substate and state if we get there. There's no point in running from it or dodging it. You've just got to play it."
The 6A schools claimed the top three spots at the tournament. Shawnee Mission West defeated Washburn Rural in the championship match, 25-20, 25-22. Shawnee Mission North held off Lansing for third place, 26-28, 25-23, 25-12.
The third-place match was Lansing's second three-game loss of the season. It also lost in three games to Mill Valley on Wednesday.
"We played pretty good against Shawnee Mission North," Slater said. "We needed to finish that second game, but we didn't. We had game point several times that second game, and we didn't finish it off. We need to learn how to finish."
Lansing stormed through its first three matches of pool play by beating De Soto, Spring Hill and Piper in two games each. Then LHS faced Washburn Rural in a match that was never close. Rural cruised to victory, 25-9, 25-12, and claimed the top spot in the black pool.
"They just played scared and intimidated against Washburn," Slater said of her squad. "Washburn really didn't do anything but serve at us, and we just proceeded to shank the ball. We couldn't get our offense going. We played scared, and we can't do that."
Rural beat SM North in the semifinals, 25-20, 27-25, to advance to the finals. SM West held off Lansing in the other semifinal, 25-20, 25-14, in a match that was closer than the final score indicated. Lansing used an 11-3 run midway through the first game to take a 19-17 lead. Senior Jessie Dellinger had a kill and a solo block and junior Katie Nietzke fired an ace during that stretch. West closed the game on an 8-1 run. Lansing bolted to a 5-1 lead in game two as senior Kate Courtney had a kill and two blocks. West got back into the match with a 14-3 run.
Lansing (5-4) next plays at 5 p.m. Tuesday when it travels to Gardner to play Gardner-Edgerton, Bonner Springs and Spring Hill.