Boundary idea gets little support here
Lansing board not interested in giving up area
A proposal to examine redrawing the boundaries between the Lansing and Leavenworth school districts received no support at a joint meeting of the Lansing City Council and Lansing School Board - though it's receiving mixed support among those living in the affected area.
Council member Ken Ketchum told council and board members at the joint meeting Monday, Sept. 11, he hoped the board would not consider a proposal floated by a Leavenworth School Board member interested in transferring a portion of the Lansing school district to the Leavenworth district.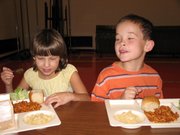 Board member Brian Bode told Ketchum he wasn't interested.
"I'm considering officially going on record tonight dramatically opposed to that," Bode said.
Leavenworth board member Danny Zeck has asked the Leavenworth School Board to take a closer look at an area within the city limits of Leavenworth.
In the area south of Muncie Road and west of Shrine Park Road, students with a Leavenworth address are assigned to the Lansing school district.
In an interview earlier this week, Zeck said the boundaries just "don't make sense" and the districts should examine more closely aligning the school district boundaries with city boundaries by using Eisenhower Road as the dividing line.
He said he'd been bringing the issue up at Leavenworth School Board meetings for a year and a half.
"I'm speaking for myself only - not for the entire board - but if it makes positive sense for both districts, why wouldn't we do it?" Zeck said.
At Monday's meeting, Bode told the group that when the unified school districts were created, the Leavenworth School Board voted to approve the boundaries.
He said taxpayers in the Lansing school district had been asked to contribute to facilities such as the new elementary school and high school auditorium based on those boundaries.
"To just take them out now because it's convenient for them to look down Eisenhower Road and see a straight line isn't a good enough answer," Bode said.
Board member Rob Nicholas told the group that other area cities, including Shawnee, spill into two school districts, much like in Leavenworth.
Bode said if the issue picked up momentum, the Lansing school board might approach the City Council for a resolution of support.
Lansing schools superintendent Randal Bagby said if there were a dispute, the Kansas State Board of Education would have the final vote on such a matter.
"You can petition the state for anything," Bagby said. "There would have to be compelling reasons for them to even consider it."
THE PROCESS
Kevin Ireland, staff attorney with the Kansas Department of Education, said the School Unification Act of 1963 reorganized Kansas school districts, and local planning committees and local politics determined the boundaries between districts.
He said changing long-standing district boundaries was "not the easiest, but it's not impossible."
The first method requires a written agreement between two school districts and approval from the Kansas State Board of Education.
The only other option requires a district to petition the state board.
In this process, the parties present their sides to a hearing officer.
After a public hearing, the officer makes a recommendation to the state board and the board ultimately decides the outcome.
Janet Waugh, Kansas Board of Education member for the 1st District, which includes Leavenworth County, said she preferred districts sit down and reach an agreement.
"The first thought would be for me to ask, "What's best for the students?" Waugh said. "Because this is my district, I would have to do a lot of research before I decided on anything."
But, she said, if both districts agreed on a change, she would support it - no matter what.
"I believe these decisions are best made locally," Waugh said.
She said petitioning the board could be a challenge.
A member of the state board since 1999, she recalled a dispute between two school districts several years ago.
Ultimately, the board rejected the hearing officer's recommendation and came up with its own solution, which Waugh said was "totally different" from what both the parties had proposed.
"It's sort of like going to court, sometimes no one gets what they want," she said. "I'm one vote. Even if I agree with the school districts, that doesn't mean other board members will agree with me."
NOTHING PERSONAL
Zeck, who said he had served on the Leavenworth School Board "off and on for the last 20 years," noted he started looking at the issue during the last election campaign.
He said it was nothing personal.
"I'm not trying to drive a wedge between Lansing and Leavenworth," he said. "I have grandkids that go to Lansing schools.
"We're just studying it right now. Things change - population and everything else - and Eisenhower just seems like a good dividing line."
Zeck said he hadn't made any decisions on the matter one way or another. He just wants to examine the issue.
He cited three issues that caused him to consider an examination.
"Lansing has an overcrowding problem, high taxes and traffic problems," Zeck said.
Zeck said growth in Lansing had led to a need for bigger schools, which require more tax revenue to provide bigger facilities for more students.
That growth also leads to traffic congestion, through which students who travel from Leavenworth to Lansing schools must navigate. Zeck said congestion on the Lansing school campus that houses the elementary, intermediate and high schools was also a problem.
He said the Leavenworth schools have room to accommodate growth and ease the burden of the Lansing schools.
"If we could come up with an amicable agreement, we could alleviate some of the pressure," he said.
Zeck said he was not sure how much support he had from the rest of the board, but he would prefer not to petition the state board for a public hearing.
Meanwhile, Zeck said he would keep bringing the issue up at board meetings.
"Hopefully it makes people think about it and stirs some discussion. I think if we get some discussion going, something good will come of it."
Leavenworth School Board president Robert Van Horn said he needed more information before forming an opinion. But, he said, it's something the board should study.
"We're not after Lansing, and they're not after us," Van Horn said. "We need to know how Lansing feels about it. It could be a good thing, but we don't want to upset the apple cart between sister cities."
Bagby and school board members said they haven't been approached by the Leavenworth School Board to join in discussions.
THE IMPACT
Bagby said he wasn't sure how many students who live in that area of Leavenworth now attend Lansing schools.
If a change to the boundaries ever occurred though, students in that area could apply for out-of-district enrollment in the Lansing schools and per pupil state funding would follow the student, Bagby said.
Leavenworth school district officials said it would take some time to compile figures of how many students in the area south of Muncie Road and west of Shrine Park Road attend schools in Leavenworth as out-of-district students.
Opinions vary among residents who would feel the effects of a boundary change.
Kathleen Blose, 804 Highland Drive, said she wouldn't be opposed to it because transferring the area to the Leavenworth school district would prevent her son, a sophomore at Leavenworth High School, from having to complete the out-of-district application every year.
She said her family chose the house based on its availability and "convenient location," which is five minutes away from the high school.
Jodi Jans, 816 Highland Drive, said close proximity to Leavenworth High School led her to question the existing boundaries.
"It really makes no sense to me," she said. "I wish it would change."
Jans' daughter was approved for out-of-district enrollment and now attends Leavenworth High School.
Jans said her daughter attended Lansing schools for one year but made the decision to change school districts "solely for convenience."
"Lansing is a great school. Leavenworth is a great school. For us, it was just a matter of proximity," she said.
Now, Jans said, she doesn't have to worry about long bus rides or fighting traffic to and from the Lansing schools. And if her daughter needs to walk home from school, it's a short walk.
Andi Pawlowski, a real estate agent for 19 years who serves on the Lansing City Council, said there were some residents, however, who wouldn't take a boundary change lying down.
Pawlowski said she had sold houses in the Park Ten subdivision to " a number of people in the '90s" because the subdivision was in the Lansing school district.
"School boundaries are pretty important to people when they're buying houses," she said.
Teresa and Howard Kings, 4508 Parkway Drive, moved to Leavenworth from Germany in 1993.
When Howard Kings visited the area to buy a home, he didn't find many in the Lansing city limits that fit the family's price range.
After examining test results and graduation rates at area schools, Kings said he decided to buy within the Lansing school district.
Kings said he didn't think the Leavenworth schools were bad; he simply preferred the Lansing schools. So the couple and their children settled in Leavenworth but within Lansing school district boundaries.
"The most important thing for me was to find the right school. I knew it was Lansing. I shopped it," he said.
Teresa Kings said, "That was the whole reason we moved here, and sometimes that's a selling point."
The Kings' daughter, Ashley, attended Lansing schools from first through 12th grade. Their son, Bud, is now a junior at Lansing High School.
Although a change in district boundaries likely wouldn't affect their son, Howard Kings said he would still consider speaking against the issue at a public hearing.
"Personally, it will not affect my kids, but I think it's a knee-jerk reaction on the part of the Leavenworth schools to get more money for their schools," he said.
Teresa Kings agreed that a change was worth a challenge.
She said traffic congestion would ease after the completion of road construction projects.
"The construction is time-consuming, but that will get better," she said.
Across the street at 4509 Parkway Drive, Lazlo and Raietta Taborosi said they were also opposed to changing the boundaries.
"We've been paying taxes to the Lansing school district since 1990 and want to get our money's worth," Laszlo Taborosi said.
The couple's twins, second-graders, attend Lansing Elementary School. The couple said they looked forward to seeing their children graduate from Lansing High School some day.
Laszlo Taborosi said he was single when he bought the house and didn't think much about school district boundaries then, but he does now.
He said he didn't see any good reasons for the change and that it would cause too much upheaval.
"We're very satisfied with what's going on in the Lansing schools," he said.