Community answers mail call
Virginia McQuillan and the Lansing community have proved that big things really do come in small packages.
Hundreds of schoolchildren and residents have answered a call from McQuillan's daughter by preparing welcome-home and thank-you cards to greet servicemen and women when they return from Iraq later this month.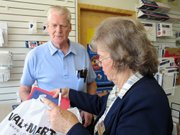 On Friday, Sept. 8, McQuillan mailed a package of colorful greetings to Fort Campbell, Ky., where her daughter Kelley Ebel lives with her four children and husband Col. Todd Ebel. Todd Ebel will return from service in Iraq with the 101st Airborne Division within the next few weeks.
Current columnist Gene Young and his wife, Ada, helped the women spread the word about the project.
McQuillan said her daughter came up with the idea after watching single servicemen return from Iraq this summer.
"She saw those men - the ones who were married - they had families there greeting them," McQuillan said. "The ones that didn't have family - the single gentlemen - they kind of stood around, and she felt so bad."
"She said it would have been so nice if they would have had something to look at and to give them a feeling of warmth."
Now they will. The package mailed on Friday contained 4 pounds, 12 ounces worth of "warmth," generated by Lansing and Olathe schoolchildren, as well as many adults.
Ebel will distribute the cards at the fort during the coming weeks when servicemen and women return from Iraq.
McQuillan said Olathe children lent their talents to the project thanks to a grandmother from Lansing who recruited help from family members.
Gene Young also credits Lansing school district officials and teachers and caring community members with the tremendous response.
All together, organizers mailed about 500 cards to Ebel.
While the cards were loaded with messages welcoming and thanking the troops, at least one of them - created by an elementary student - delivered a dose of wisdom.
It read, "Welcome home. Do you have children? Play with them."
Gene Young said that the card demonstrated the impact of such a project on the givers as well as the receivers.
"That makes you know there's a story there," he said. "I hope it's a good one."