Grandparents welcomed to school
Brandi Lynn teaches lifelong lessons to her students, but she says grandparents deserve credit for teaching children values they might not learn in her classroom.
In honor of grandparents, Lynn's fourth-grade class at Lansing Intermediate School played host to Grandparents' Hour on Friday, Sept. 8.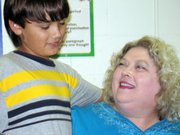 Eleven grandparents turned out for the event, which offered multiple generations an opportunity to share treats, memories and knowledge.
Lynn organized the hour in conjunction with National Grandparent's Day, traditionally observed the first Sunday after Labor Day.
She recalled the joy her husband's grandmother received when she attended Grandparents' Day at Tonganoxie Elementary School every year before her death.
Lynn wanted to replicate that excitement in her own classroom.
Lana Wollesen, of Leavenworth, spent the hour with granddaughter Stevie Sherard.
Wollesen said the experience reminded her of the benefits of living close to her relatives.
"I feel like I'm very fortunate because I never lived in the same town with my grandparents; now I live in town with my five grandkids," she said.
Some students honored grandparents who couldn't attend by bringing treasured mementos and telling their classmates stories about them.
Meaghan Sall showed the class an unfinished cat quilt her grandmother sewed for her while she battled cancer.
To Meaghan, the quilt is perfect as is, and so was her grandmother.
"She didn't have children until she was 40, because she was an adventurer," she said. "She went to Alaska and taught nursing to the Alaskans."
Derek Mein shared a poem and a science experiment with four of his grandparents, including Linda and Bob Scrivo, of Overland Park.
The Scrivos, whom Derek calls Mamah and Papah, said they see their roles differently than the roles of earlier generations of grandparents.
"We spent a lot of time at our grandparents' but it was more for family get-togethers : Nowadays, we have to play a more responsible role in raising or helping, because I think more parents are having to work," Linda Scrivo said.
But the Scrivos don't mind.
Bob Scrivo said those close connections benefit the entire family because they give grandparents an opportunity to teach responsibility and discipline.
"So many children have parents who are always working, which is necessary nowadays, so I think we should teach them to be good children, responsible citizens," he said.
Lynn said she was pleased with the turnout and would definitely repeat the event next year.
"This year, I wanted to get more teachers involved, but parking seemed to be an issue," Lynn said.
Lynn said her ultimate goal would involve every classroom, which might be possible, she said, in the soon-to-be-built K-5 elementary school. Construction is scheduled for completion during the 2007-2008 school year.