Jaqua, Lozenski shine again at Bonner Springs
Freshmen notch top-20 finishes, help Lions place fourth
Kansas City, Kan. — When Lansing High freshmen Lauren Jaqua and Abbey Lozenski notched top-four finishes Sept. 7 at the Girard Invitational, they showed they were capable of holding their own in varsity cross country races.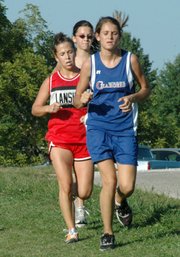 Their challenge Wednesday at the Bonner Springs Invitational was to see where they stacked up against Class 4A powerhouse De Soto. Once again, they were up to the task. De Soto returns almost its entire squad from a squad that placed fifth at state last year, and the Wildcats had the top three runners - Lauren Karnitz, Carly Stanley and Morgan Frehe all crossed the finish line in a course-record 16:28 - but Jaqua and Lozenski weren't far behind. Both brought home medals for placing in the top 20.
"That's impressive when they're that young and will be that aggressive," LHS coach Errol Logue said of the freshmen's strong showing.
Jaqua was ninth in the four-kilometer race in 17:21. Lozenski placed 16th in 17:48.
"I felt really strong on this one compared to Girard," Jaqua said. "At Girard I was just getting used to it and getting the first race under my belt, but today I felt a lot stronger."
The level of competition and difficulty of course were higher at Bonner Springs, but that simply provided Jaqua and Lozenski an opportunity to show some maturity and toughness. Neither seemed overwhelmed by the talent-laden pack, and both were more than willing to attack the course's rolling hills.
"This was a lot different race because there were more teams and a lot more runners," Lozenski said. "The runners were a lot better, so you had to get out in the beginning with the top pack our you'd be stuck in the back."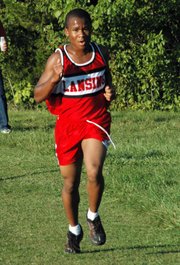 Both freshmen broke away with the lead pack early in the race, and they continued to fight for position throughout the race.
"(Lori Flippo, LHS senior) told us to stay on the inside and get your place at the beginning," Jaqua said. "She's been a big help for me and Abbey because she's been doing it for a long time and we haven't done it before."
With one mile remaining in the race, Jaqua was in 12th and Lozenski was in 19th. Both held their own, though, and they aggressively passed other runners. Jaqua moved up to seventh late in the race before slipping to ninth. Lozenski climbed as high as 13th before runners with longer strides held her off and she finished 16th.
Flippo placed 30th in 19:01, followed by sophomores Amanda Mitchell (44th, 20:41), Mallory Barnhouse (48th, 21:08) and Emilee Taylor (55th, 22:14).
Lansing placed fourth out of eight teams with 129 points. De Soto cruised to the team title with 21 points. Maranatha was second with 53 and Basehor was third with 97.
Hot off a strong showing at Girard, the Lansing boys were ravaged by injuries Wednesday. Junior Jim Mayes and sophomore Wes Appleget dropped out of the race midway through because of knee injuries. Logue said he was unsure how much time, if any, either runner would miss. Mayes' injury was believed to be more severe, however.
Maranatha's Zach Zarda won the five-kilometer boys race in a course-record 16:57. Junior Griffin Davis was Lansing's top runner. He placed 26th in 19:34. Freshman Brandon Craig was 31st in 19:44. Sophomore Matt McCurry (32nd, 19:48) and senior Brandon Mills (40th, 20:56) rounded out the field for LHS.
Despite injuries and slower times than the Lions had hoped for, Logue said he was pleased that the boys ran as a pack for most of the race.
"At the mile mark they were fine," Logue said. "We've just got to get everybody up there, but they did everything they could do. They tried their best."
Craig's time was far slower than the 17:59 he ran at Girard, but Logue said Craig was battling a cold and wasn't experienced enough to push through it.
"He can run a lot better than he did today," Logue said. "At Girard he was really aggressive, and today he just wasn't in it."
De Soto won the team title with 37 points. Marantha was second with 52 and Paola was third with 85.
In the junior varsity boys race, sophomore Greg Bremser placed 11th in 20:23. Other LHS runners were Trenton Dorf (31st, 21:46), Michael Hornick (32, 21:49), A.J. Glowacki (39th, 22:33), Joe Bagby (48th, 23:06), Alex Twitchel (67th, 24:26) and Russell Buchanan (97th, 28:08).
Sandy Collier was the top Lansing runner in the girls' junior varsity race. She placed 26th in 27:32. Andrea Shanks (38th, 23:39), Kelsey Mitchell (39th, 23:57) and McKenna Hall (42nd , 24:26) rounded out the Lions' squad.
Lansing next competes at 4 p.m. Thursday at the Tonganoxie Invitational.