Lansing tennis keeps elite company at Trailblazer Invite.
Gardner — When it comes to Kansas high school girls tennis, Shawnee Mission East, Shawnee Mission Northwest and St. Thomas Aquinas are like Paris Hilton and Nicole Richie - they are among the area's elite programs that other schools strive to play like.
Meet the area's newest socialites on the high school tennis scene: the Lansing High girls. That's right, the Lions found themselves joining the area's heavyweights Tuesday at the Trailblazer Invitational at Gardner-Edgerton High School.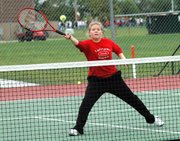 East won the team title with 25 points, just ahead of runner-up Northwest (24) and third-place Aquinas (20), but fifth-place Lansing (17) made sure its presence was felt all day. LHS and East were the only teams at the tournament that had both singles players and both doubles teams in the winners bracket.
"When you come and you have teams like this, and you're on that side the first time out, it's impressive," LHS second-year coach Rachel Elkins said. "The scores across the board might not show that we're moving over here, but we are."
Senior Heidi Schultz was Lansing's top performer as she placed third at No. 1 singles. Schultz cruised past Northwest's Katie Van Saun in the opener, 8-2. Schultz then lost to Lindy Cope of East, 8-3, before bouncing back to defeat Amy Lowe of Mill Valley in the third-place match, 8-3.
Schultz's ground strokes were automatic all day. Her only weakness was her serve, which showed itself in the form of about a half-dozen double-faults against Lowe. Other than that, Schultz looked like she was in midseason form.
"I always need to work on my serve," Schultz said. "The rest of my game was quite a bit better than my serve. But this is a pretty good feeling to medal at the first (tournament) of the year."
Freshman Amy Briggs made her high school debut at No. 2 singles and won her first match against Kelsey Horton of Gardner, 8-6. Briggs then lost to eventual champion Ruth Stark of East before falling in the third-place match to Nina Luo of Northwest, 8-4.
Lauren Elkins and Abby Hauver placed fourth at No. 1 doubles with a victory against Spring Hill and losses to Aquinas and East. At No. 2 doubles, Christine Cordes and Briana Hall placed fourth. They claimed a victory against Spring Hill and had losses to East and Mill Valley.
The Lions competed Wednesday at the Baldwin Invitational. To read about it, go to lansingcurrent.com.
Lansing is back in action at 9 a.m. Saturday at Hayden High School in Topeka.