LMS

8th-grader in hog heaven showing pigs
Casinos have been good this summer for 13-year-old Blaine McDougal - Big Casino and Little Casino, that is.
Blaine, son of Chris and Nancy McDougal and an eighth-grader at Lansing Middle School, has been showing the Yorkshire siblings all summer long at hog shows, earning ribbons and awards all along the way.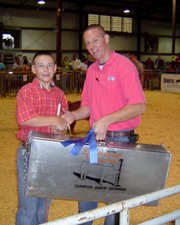 Last weekend, Little Casino was named the reserve champion Yorkshire breeding gilt at the 2006 Kansas State Fair in Hutchinson. Earlier this month, Blaine was named champion junior showman at the National Junior Swine Association's Southwest Regional in Wichita Falls, Texas, where he showed Big Casino.
It's been that kind of a summer for Blaine, who started showing hogs three years ago through 4-H.
But back to the sibling hogs, born in January :
"When we had her, she wasn't looking as good as her full brother : so we named him 'Big Casino,' and she was a lot smaller so we called her 'Little Casino,'" Blaine explained.
Throughout the winter, spring and summer, Blaine worked with the hogs, getting them ready for competition.
Blaine shows pigs in classes, where the animals are judged for body composition and soundness. Blaine also competes in showmanship. In class competition, the emphasis is on the pig, and both Little Casino and Big Casino grew into their own as show pigs; showmanship's emphasis is on how the animal and the person showing it.
Showmanship is an area in which Blaine has become successful; last year, for example, he was the reserve champion in junior showmanship at the American Royal in Kansas City, Mo.
Showing hogs takes training. Despite some preconceptions, Blaine said he hadn't encountered too much difficulty since taking up his avocation.
"They've been pretty agreeable," he said. "It's mostly in how you work with them."
Big Casino was Blaine's showmanship pig, and he competed with Big Casino at shows in Kansas, Iowa and Texas. On the Eastern Kansas Swine Show Series circuit, Blaine placed as either champion or reserve champion in showmanship with Big Casino in seven of eight competitions.
Big Casino also was the Champion Yorkshire Market Hog at the Leavenworth County Fair and at the Eastern Kansas Swine Show in Manhattan.
Alas, Big Casino is now the entree on someone's dinner table.
"He's done," Blaine acknowledged, using a cutting motion across his throat to signal the hog's fate.
Though the hog was a champion at the Leavenworth County Fair, Blaine didn't offer him in the fair's livestock sale. Instead, he sold Big Casino privately after the Wichita Falls show. The wait paid off; instead of 48 cents a pound paid at the fair, the private seller offered 60 cents a pound.
Fate will be a little kinder to Little Casino, who despite showing well at the state fair will be spared a trip to the sale barn and slaughter house - at least for now.
"We're going to breed her," Blaine said.
As for Blaine, he'll continue showing hogs. This year he still has plans to show at the American Royal and the Kansas Junior Livestock Association show in Wichita.
Next year, he said, he also may expand his horizons and show beef cattle, too.
But hogs will always be his first choice, he said.
"You can show until you're 21 in the national shows. In Louisville (at the National Swine Registry show) and the Pork Expo up in Iowa, you can show in the open show and be however old you want to, so I'll probably show a long time with these pigs," he said.