National president of
VFW

auxiliary makes visit to area
As national president of the Ladies Auxiliary to the Veterans of Foreign Wars, Linda Meader is always looking to recruit new members.
So, during her stopover earlier this week at VFW Post 56 in Leavenworth, it came as no surprise to her that she was able to entice Leavenworth Mayor Laura Janas Gasbarre and Leavenworth City Clerk Karen Logan to join the auxiliary.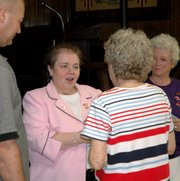 "I tell you, we're finding members all over the place," Meader said. "All you have to do is ask."
Meader took office last month as national president of the Ladies Auxiliary, which boasts nearly 600,000 members in the United States, Guam and Panama. In Kansas, more than 8,400 women belong to the organization.
Auxiliary members in Leavenworth greeted Meader at the VFW post on Monday with an Aisle of Honor, and Gasbarre presented her with a proclamation honoring Meader's visit and declaring Monday as "Spirit of America Day" in Leavenworth.
Earlier, Meader had taken a tour of Fort Leavenworth, where she learned the story of the Buffalo Soldiers.
"I'm a history buff, so I loved that kind of thing," she said.
Meader came to Leavenworth at the request of Frances Rickey, president of the Post 56 Auxiliary. The visit was welcomed by members.
"We were very lucky to get her here in Leavenworth," said Donna Vargas, one of the auxiliary members attending the gathering. "She goes to every state in the U.S., but she can't visit every post."
After her visit in Leavenworth, Meader left for Fort Riley and Abilene.
Meader's visit to Kansas marked the third state the resident of Concord, N.H., has visited in her short tenure as auxiliary president. Before the end of her yearlong term, she'll have visited all 50 states, Panama, Korea, Taiwan and France, among other places.
Unofficially, Meader said, she's been a Ladies Auxiliary member her entire life - "My mom and dad joined when I was about 6 months old," she said.
Officially, she's been a member 42 years.
"You can join at age 16. I've completed 42 years of membership. But if you add that up and come to more than 39, you better check your math," she joked.
Meader praised auxiliary members for their many volunteer activities, including Buddy Poppy sales, and raising funds for cancer research and Operation Uplink, a program that provides long-distance telephone cards to servicemen and women overseas.
"The best things auxiliary members do is volunteer, but they volunteer doing all kinds of things," Meader said.