Mona Hauver has a good excuse for moving into her neighbors' house.
After a twist of fate moved her and her family from Lansing for nearly three years, a second twist brought them all back. The return proved to be an interesting experience. While searching for a new residence, the Hauvers had a chance meeting with the new owners of their old house.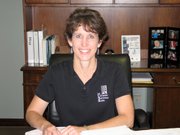 "He kind of asked the question, 'Well, do you want your house back?'" said Hauver, who was touched by the gesture though she doubted its seriousness. "We said, 'No, you're fine. We don't need our house back.' They are just the nicest people."
The house next door was on the market, however, and the Hauvers decided to move in. After living in Lansing for eight years, Hauver's husband got a job in Phoenix. It wasn't easy leaving Lansing.
"We had been here in Lansing since 1994, so when we moved in 2002 we had been here awhile. Our roots had started to grow pretty deep," Hauver said. "Our neighbors had such a huge party."
Nearly three years later, a new job inspired a second move. But that time, making the decision wasn't so hard.
"We could have probably moved anywhere in the Midwest, but we had such a good experience before," Hauver said. "It takes going someplace else to really appreciate what you have."
And one thing Lansing has is a stellar school district. Hauver thinks Lansing schools are more challenging than the Phoenix schools her children attended, which she said ranked second in Arizona.
So far, the oddity of moving next door is a small price to pay: It hasn't been that bad.
"I thought it would be more weird than it really is," she said. "Never in my wildest dreams would I have thought that I'd be next door doing the yard work."
Name: Mona Hauver
Address: 180 Canyon View Drive
Occupation: Mortgage loan officer
Graduate of: Westside High School, Omaha, Neb.
Family: Megan, 22, Jessica, 19, Abby, 17, Elle, 14, daughters; Bobby, 16, son; Rich, husband
How long have you lived in Lansing and what brought you here? Since New Year's Eve 2004; formerly, since 1994
What do you like most about Lansing? The people and the education
What do you do for fun? I love to hang out with my family: No expectations, nothing.
What's the best advice you've ever received? Live your life so there's standing room only at your funeral.
What organizations or clubs do you belong to? Lansing Booster Club, teaching high school classes at St. Francis De Sales, co-chair Operation Graduation