Schultz, Briggs lead Lansing at Baldwin Invitational
Less than 24 hours after placing fifth in the Trailblazer Invitational at Gardner-Edgerton, the Lansing High girls tennis team was back in action Wednesday at the Baldwin Invitational.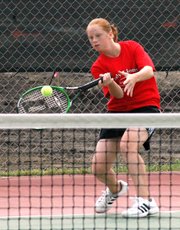 None of the Lions medaled, but a few turned in solid performances against some top-tier competition.
Senior Heidi Schultz posted a 2-2 record at No. 1 singles. She earned victories against Casey Tush of Iola, 8-1, and Hanna Kopetz of De Soto. Her losses were to Shea Schmidt of Larned, 8-1, and defending Class 4A state champion Alex O'Neal of Topeka Hayden, 8-1.
Freshman Amy Briggs had another strong performance at No. 2 singles. She won her first two matches of pool play, beating Kayla Schmidt of Larned, 8-4, and Merecedes Preston of Iola, 8-0. She lost her last two matches, however, falling to Monica Montana of De Soto, 8-3, and Suzie Gulley of Hayden, 8-1.
Senior Abby Hauver and junior Lauren Elkins lost all four of their matches at No. 1 doubles. Junior Christine Cordes and freshman Briana Hall went 2-2 at No. 2 doubles. They earned an 8-0 victory over Ciara Kubek and Amy Carr of Iola and beat Kara Doherty and Brittany Smith of De Soto, 8-0. Their losses were to Katie Vine and Erica Millan of Larned, 8-4, and Chelsi Haetek and Emily Thompson of Hayden, 8-3.
Lansing will be back in action at 8 a.m. Saturday in Topeka at the Hayden Invitational.
Varsity season records:
No. 1 singles - Heidi Schultz, 4-3.
No. 2 singles - Amy Briggs, 3-4.
No. 1 doubles - Abby Hauver-Lauren Elkins, 1-6.
No. 2 doubles - Christine Cordes-Briana Hall, 3-4.