BLHS

soccer team can't hold on against Mill Valley
Jaguars score last three goals, win 3-2
Playing against the mighty Mill Valley soccer team Wednesday night the Bobcats held victory in their hands -- only to watch it slip through their fingers. Basehor-Linwood led 2-0 in the second half before giving up three late goals to lose 3-2.
For 65 minutes the Bobcats held the state's fifth-ranked 5A team in check by playing their best soccer of the season. The defense repelled every attack that the explosive Jaguars could mount and junior midfielder Ryan Sirridge manufactured two goals to put the Bobcats on top.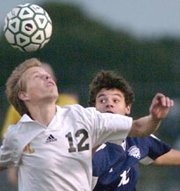 The first goal came in the 29th minute when Sirridge shrugged off three defenders in rapid succession and carried the ball into the box. He was tripped down there and Austin Knipp converted the ensuing penalty kick to put BLHS up 1-0.
Sirridge struck again in the 54th minute, playing a ball in front of the net that Mill Valley goalie Blake Elliot couldn't handle cleanly. As the ball glanced off Elliot's hand, Sirridge chased it down and rolled it into the open net.
The 2-0 lead held up until there were just 15 minutes left to play. At that point Mill Valley's top striker, Spencer Nash, was able to knock in a crossing pass, scoring a goal that re-energized the Jaguars. Mill Valley scored again in the 73rd minute and rallied for the game-winner in the 76th.
It was a heartbreaking defeat for BLHS but, given the emotion and the passion of the game, it was likely a valuable experience. Both teams will return many key players next year, and a heated rivalry appears to be developing between the Bobcats and Jaguars.