After a 10-year absence from major competition, Bresser is at home in the water
Lansing resident earns two top-10 finishes at world swim meet
It's been 12 years since David Bresser was the captain of the West Point varsity swimming team, but the 34-year-old Lansing resident had a weeklong flashback to his college days in early August.
Bresser, an Army Major and student at the School of Advanced Military Studies at Fort Leavenworth, competed Aug. 3-10 at the Federation Internationale De Natation Masters World Championships at Stanford University in Palo Alto, Calif.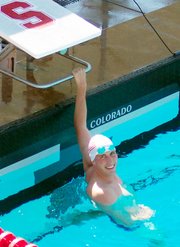 The former Patriot League champion in the 400-meter individual medley proved that he is still as stealth as a shark in the water. He has two top-10 finishes as evidence of that.
"I was pleasantly surprised about how well I did," Bresser admitted. "I didn't expect to do so well going in. Going into the meet, I was seeded 16th and 18th in my fastest events, so my goal was just to get into the top 10 because you get a medal."
For Bresser, the experience at the world championships brought his swimming career full circle.
Bresser was recruited to the United States Military Academy at West Point to be both a cadet and a swimmer. The challenging thing about college swimming had very little to do with the training, Bresser said. Instead, time management was the greatest task.
"At West Point, the other commitments you have (to the military and the classroom) limit how much time you can dedicate to swimming," he said. "I didn't swim as fast as I'd hoped to, but I was happy with how I did."
Bresser was chosen to be the team captain as a senior during the 1993-94 season, and he didn't disappoint. He won the Patriot League title in the 400-meter individual medley and led the Black Knights to a third straight league title. Bresser also competed at the Eastern Seaboards Championships his senior year and earned a top-eight finish.
When his college eligibility was up, Bresser didn't abandon the pool. He continued to swim, and a year later he was invited to represent the United States Military at the 1995 World Military Games.
"I thought that was my last hurrah," Bresser said of the meet that allowed him to represent the United States in competition against members of other nations' militaries from around the world.
Shortly after the World Military Games, life caught up with Bresser. His military duties and family life occupied most of his time. He also didn't have access to a swimming pool.
Bresser was transferred to Fort Leavenworth to further his education at the School of Advanced Military Studies. It was then that he had the opportunity to make swimming a bigger part of his life. That was a good thing, Bresser said, because he was a few years older and a few pounds heavier.
"I mainly got into it for my fitness and to keep a good weight," he said. "Here my schedule was conducive to be able to go in and swim every morning."
Shortly after Bresser returned to the pool, he began competing in area swim meets as part of the USA Masters Swimming Organization. They were fun, he said, but the competition hardly compared to the high level he was used to.
"Around here they're a lot of fun, but they're low key," he said. "There may be 20-25 swimmers there and only five or six in an event."
Bresser learned about the FINA Masters World Championships in January. That changed his daily swimming routine drastically.
"Once I heard about the world masters meet, I really started increasing my training focus," he said. "I'd been coming in every morning just for fitness. Now I started to really increase my level of intensity."
When August rolled around, Bresser was in top shape and ready to compete. He left for Stanford, but he didn't go alone. His family came to offer support, and his uncle, Steve Hellmann, and his sister, Emily Hobel, joined him as competitors.
"It was pretty neat to have all of us come from other parts of the country to compete and see each other again," Bresser said, noting that Hellmann hails from Lexington, Ky., and Hobel lives in Long Beach, Calif.
Bresser said the experience of competing in a world meet was a little overwhelming because of the number of competitors there. The FINA Masters includes swimming, diving, synchronized swimming and water polo, and in all there were about 7,200 competitors.
"During the opening ceremonies they said there were 73 countries represented," Bresser said. "Part of the meet is the older people swimming, and then there are some former Olympians and Olympic medal winners, so for me, as someone who's been swimming for a number of years, it was neat to actually compete against them."
Although he doesn't clip the water as fast as he did during his days as a Patriot League standout, Bresser more than held his own on the world stage in the 30-35 age group. His goals were to place in the top 10 in the 800-meter freestyle and 400-meter individual medley. He accomplished both and brought home a pair of medals for his trophy case. He placed fifth in the 800-meter freestyle and then earned a fourth-place finish in the 400-meter individual medley, his "favorite event."
"I swam really well in the 800," he said. "And I had set a goal time to go under five minutes in the 400, and I went 4:59."
The next FINA Masters will take place in 2008 in Australia. Bresser said he would love to compete again, but he doubts he'll be able to.
"I would love to go, and based on my performance this time, I would love to go and do better," he said. "But thinking realistically and knowing where I may be in the military, it may not be a possibility."