After 20 years, block party still brings street together
Hospitality and friendship haven't gone out of style. Lansing residents near Daisy Street are proving it.
Saturday, Sept. 16, marked the 20th annual Daisy Street Block Party, and over those two decades, the event has grown and matured right along with the families that have gathered for it.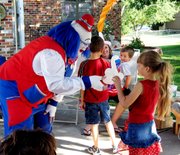 Jim Holt, one of the party's main organizers, never set out to break any records for block party longevity, but he said there'd always been consistent interest.
"At one time we thought about discontinuing doing it, and our kids said, 'No, that's something we grew up with,' and most of them come back for it, so we just kept doing it," Holt said. "We see them more and more involved in the celebration - not in setting up."
One of Holt's neighbors, Tom Smith, was part of the original team that formed the party back in the 1980s. Smith said there were so many young children in the neighborhood at the time, it was a chance for some communal fun. Events like egg tosses or water balloon throwing contests would fill the afternoon, which was typically on a Saturday in late summer or early fall.
"We started out with the kids," Smith said. "Mostly we have an adult crowd now."
But the event has matured right along with the children who used to attend it. And as many of the next generation have gone off to school or had children of their own, the party now provides an excuse for everyone to get together again.
"My daughter lives in Des Moines now. She comes down every year," Smith said.
And though Holt naturally began to gear the event toward the older crowd, he's noticed that the swing toward all adults in attendance is slowing.
"Now we're seeing it turn around and come back," Holt said. "Right now what we're seeing is families coming back into this neighborhood with younger kids."
And so, for the first time since 2001, Holt invited Pabo the Clown to come entertain the neighborhood children. And Pabo's antics provided a great excuse for new neighbors to break the ice.
Amy Sanchez is one of many new faces in the neighborhood. She learned of the block party through an invitation that Holt delivered, and brought her two children to see Pabo.
Sanchez said the party was a nice introduction to the neighborhood. Times have changed, she said, since moving in was excuse enough to stop over and the neighbors.
"It's hard to go around," she said. "It was nice to see that you can just get together and get to know each other."
Holt agrees. It's just part of a larger shift in mindset, he said.
"People are very skeptical of other people, they're not as outgoing as they used to be," Hold said. "But once they're there, they're more open."
And at least on Daisy Street and its surrounding neighborhoods, they'll have a way to break the ice. Even after 20 years of parties, Holt talks about the event as though it's just getting started. Having been officially dubbed "Mr. Block Party" by his comrades, Holt sees the party as his own personal hobby, and for now, he has no interest in giving it up.
"Some day if somebody wants to take it over, I'll let them have it," Holt said. "But nobody has volunteered yet."
But, for Holt, it goes beyond socializing. It's about people. It's about friends.
It's about neighbors.
"You learn a lot about people, and you touch a life," Holt said. "And you hope if they go on, they do the same thing."