Bananas for radio prizes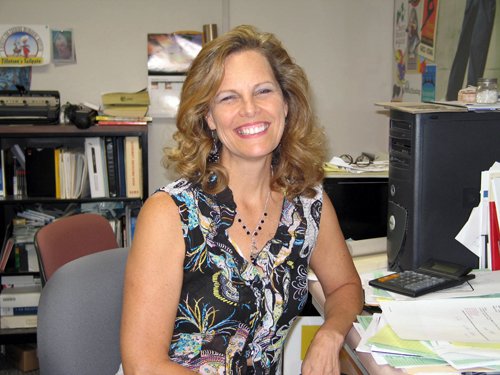 Ever wonder who wins all those radio contests? Wonder no more.
Anne Hoins, a self-confessed radio contest junkie, has an addiction that pays: Hoins said she had won as many as 250 contests in the past six years, from which she's snared no small haul.
"Lots and lots and lots of stuff. Trips and money and concert tickets and books and all kinds of stuff," she said.
Hoins wasn't always such an avid contestant, but a bit of trivia netted her a lucky turn.
"My first win, I think, was years ago. There was a question on the radio station that was, 'What fruit should you not eat if you're planning on going outside that day?'" Hoins said, explaining that she had recently read that mosquitoes were especially attracted to people who ate bananas.
"And, of course, you know, once you win you're hooked."
Since then, Hoins has continued to play - and win - radio contests. The prizes vary, she said, but occasionally, fantastic prizes come along. Her favorite win was an expenses-paid trip to see James Taylor at Red Rocks Amphitheatre near Denver.
Lately, Hoins' work at Young Sign Co. has kept her swamped. Recently, the company took on multiple projects for the Chiefs and Arrowhead Stadium.
"We did all of their sponsorships signs, plus we did a lot of the scoreboard signs," Hoins said.
With some of the signs measuring as large as 14 feet by 50 feet, it meant a lot of coordination and planning, sometimes at the last minute.
"We did it all in eight days," she said of the largest sign. "That was about as crazy as we ever have been."
But with business settling down and a bit more time on her hands, Hoins might be dialing in for more chances to win. Her strategy is always the same.
"Just keep trying," she said. "I'm persistent."
Name: Anne Hoins
Address: 505 W. Olive St.
Occupation: Art director, Young Sign Co.
Graduate of: Lansing High School
Family: John, husband; Eric, 28, Chris, 25, and Jeff, 20, sons.
How long have you lived in Lansing and what brought you here? We are as native as you can be.
What do you like most about Lansing? I love the small town spirit and I love being able to see people I know and have known for years and meeting new people that really add to the community.
What do you do for fun? I play golf, I'm in a bunko group and I love going to concerts.
What would surprise people about you? I'm radio contest junkie.
What's the best advice you've ever received?
Never turn down a free meal.
What organizations or clubs do you belong to? Chamber of Commerce; Kansas State Sign Association; I help with St. Francis de Sales Church; Festival of Trees.