Barnett's running mate plugs Republican unity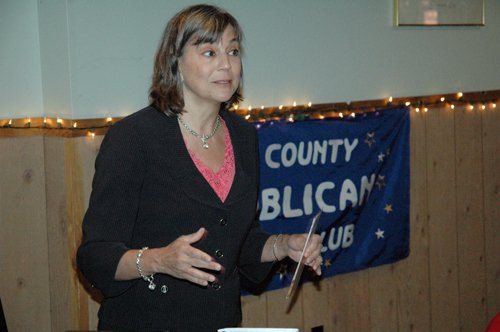 Susan Wagle sees an easy way for her and the rest of the statewide Republican Party ticket to be swept into office this fall.
In a talk Monday to the Leavenworth County Republican Women's Club, the Wichita state senator and candidate for lieutenant governor noted registered Republicans outnumber Democrats by about 2 to 1 in Kansas.
"If Republicans vote Republican this November, Jim Barnett wins, Phill Kline, Ron Thornburgh wins, Lynn Jenkins wins, Sandy Praeger wins," said Wagle, the running mate of Barnett, an Emporia senator seeking to unseat incumbent Democratic Gov. Kathleen Sebelius.
Wagle said Sebelius made a tactical error in selecting her running mate for 2006. Earlier this year, when Lt. Gov. John Moore decided against seeking another term, Sebelius got former GOP state chairman Mark Parkinson to change parties and become her running mate.
The switch, Wagle said, infuriated Republicans and could backfire on Sebelius' ability to draw support she needs from Republicans to be re-elected.
"Even moderate Repub-licans are saying, 'No. I'm not leaving the Republican Party. I'm not going that far. I'm staying Republican,'" Wagle said.
The result, she said, is an even more united party.
"I've been in rooms with very moderate Republicans, I've been in rooms with very conservative Republicans, and I believe Republicans are united this election," she said.
As for the issues, Wagle touched on the themes the Barnett campaign has been expounding throughout the state: the state is in a fiscal crisis because of the amount of money needed to fund the recently passed school finance bill; Kansas' economic growth is lagging behind other states in the region and needs a tax cut to stimulate growth; the Kansas Supreme Court is running out of control and needs to be reined in; and the governor is soft on illegal immigration.