Deborah D. Bragg
1951-2006
Services for Deborah Denise "Debbie" Bragg, 54, Jacksonville, Fla., were Monday at St. Paul United Methodist Church in Jacksonville.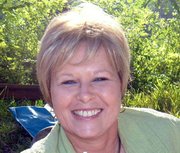 Mrs. Bragg died Thursday, Sept. 14, 2006, after a four-year struggle with ovarian cancer. She was born Sept. 19, 1951, in St. Joseph, Mo., the daughter of Milton R. and Ruth G. Davis.
Mrs. Bragg grew up and spent most of her youth in Lansing. After graduating from high school, she went to work for Southwestern Bell in Leavenworth and retired as a manager for BellSouth.
She was a member of the Methodist church for many years.
She was married May 4, 1973, in Lansing to Benjamin Thomas "Tommy" Bragg. He survives of the home.
Other survivors include a son, Bradley Bragg, Jacksonville; her mother, Ruth Davis, St. Joseph, Mo.; three brothers, Danny, Deerfield Beach, Fla., Doug, Lansing, and Donnie, Edmond, Okla.; and two grandchildren.
The family suggests memorials to St Vincent's Foundation, c/o Women's GYN Cancer Support Group, 1800 Barrs St., P.O. Box 41564, Jacksonville, FL 32202, or to the Lansing United Methodist Church Building Fund, 107 E. Kay St., Lansing 66043.
Eternity Funeral Home, Jacksonville, was in charge of arrangements.