Full of spirit
Middle School's Pep Club counts 140 members
Teenagers in the Lansing school district have an opportunity to fire up their school spirit sooner than teens at other area public schools.
That's because Lansing Middle School students can join Pep Club as early as the sixth grade. LMS is the only public middle school or junior high school in Leavenworth County with an organized Pep Club.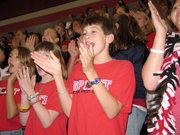 "It's great that we're getting them involved early," Mindy Brinker, club sponsor, said. "They're so spirited in middle school anyway. They're very excited about what's going on, so it's good to bottle that up and give them somewhere to let it go."
LMS students showed off that school spirit recently during the first pep rally of the school year. The event paid special recognition to the seventh- and eighth-grade cheerleaders and football and volleyball teams.
Brinker recruited 140 members during her first recruitment period as club sponsor. Although the group didn't have time to meet and plan any formal activities for the first pep rally, many members wore their Pep Club T-shirts and worked at revving up the crowd.
Most of the Pep Club's new members are sixth-graders, who aren't eligible to participate in interscholastic athletics or cheerleading until seventh grade.
Sixth-grader Reno Strein joined the club with a couple of her friends.
"It sounded like it would probably be fun," Reno said.
Eighth-grader Cheyenne Rettele said she was looking forward to another full year of Pep Club activities, especially attending free games and selling snacks.
"You get to help out in the concession stand and it's just lots of fun," Cheyenne said. "You have to be good at math - which I am."
Brinker, who previously sponsored the spirit squad when she taught at Piper High School, said the students at LMS may be younger, but they demonstrate "just as much excitement" as the high school students she's worked with.
For a $10 fee, members receive a Pep Club T-shirt and admittance to all home games. Brinker said they're responsible for leading chants and encouraging fans to support the teams while setting a good example for the rest of the crowd.
But Pep Club involves more than just wearing red and white and cheering on the Lions' athletic teams.
Fundraising plays an important role in the club's annual traditions, which span more than five years.
Club members manage the concession stand during home games and school dances. The money they earn helps pay for lasting improvement projects at LMS. Last year the club purchased outdoor bleachers, a picnic table and signs for the gym.
Brinker said managing the concession stand as well as the club's finances and activities helped train students to be leaders by encouraging them to make decisions together.
Last week, the club elected four officers and one representative from each grade. That group will make the final decisions about what products the concession stand sells, how to reward loyal club members and how the club will spend its profits.
Another Pep Club tradition occurs at the end of every school year when the group takes its annual field trip. Club members who attend a set amount of games are eligible for the outing, which is usually a baseball game.
Last year, loyal club members were rewarded with a trip to Power Play Family Entertainment Center in Shawnee.
Brinker said she hoped to keep those traditions alive while adding a new one during her first year as the club's sponsor: She will encourage more collaboration between the Pep Club and cheerleading squad during pep rallies and sporting events.
She said she hoped working together would demonstrate how students could achieve the same goal.
"A lot of kids miss out on the importance of being involved with their school," Brinker said. "Pep Club really fosters that togetherness."