Hat trick lifts
LHS

past Bonner
Bonner Springs — It was no coincidence that Lansing High senior Nate Markovetz had the best game of his career on the same night the Lions had one of their best all-around games of the season.
The two went hand-in-hand Monday night at Bonner Springs. Lansing controlled both ends of the field thanks to smooth passes, great communication and precision accuracy on offense. LHS turned in a dandy of a performance, and Markovetz reaped the reward for his teammates' effort as he scored all three of the Lions' goals in a 3-0 victory at David Jaynes Field.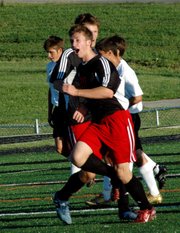 "Everybody played so hard today," Markovetz said. "I was so proud of them."
Against Bonner it appeared Lansing fixed all of the problems that had plagued it during the past two weeks. Dating back to the Sept. 6 home loss to Basehor-Linwood, LHS had poor on-field communication and hadn't played with intensity for a full game.
That changed against the Braves. The Lions (5-1-1) came out clicking on all cylinders. They applied immediate pressure on goal and eventually found the back of the net in the 15th minute. That's when senior Josh Robinson lofted a corner kick in front of the goal. Markovetz crashed the near post and sent a header just past the Braves' goalkeeper for a 1-0 lead.
"I just jumped for it and got lucky," Markovetz said of the header.
At that point, Bonner upped its intensity as well, but Lansing was up to the task. LHS goalkeeper Alex Burton made a few saves to keep the Braves off the board. Meanwhile, the Lions kept firing away.
"Right after we got that first goal, we kind of dropped back and tried to play defense, but then the second half we definitely just kept going and going and going, and that's what we need to do," Markovetz said. "That's what we did last season, and that's what made us successful."
The first 25 minutes of the second half were evenly matched, but Lansing eventually struck again. Markovetz burned past a Bonner defender and slipped a shot past the keeper for a 2-0 lead in the 64th minute. He struck again six minutes later when he stole the ball and beat the keeper one-on-one.
The Lions placed a half-dozen more shots on goal in the final six minutes, but none found their way into the net.
LHS coach Randy Brown said he was impressed with his squad's all-around play.
"After seeing the last couple of games where the guys have been fine, (it was great) to see them step up, pass the ball, talk and do the things we need to do and finish," Brown said. "This is an excellent way to start this week, especially when we have a big game coming up on Thursday."
Lansing plays host to perennial Class 4A powerhouse Kansas City Christian today. The junior varsity plays at 4:30 p.m. The varsity game kicks off at 6 p.m.
"It's going to be super-important for us to be able to play well against them," Brown said. "We'll see where the chips fall. I know they're going to be faster than (Bonner Springs) and they'll be doing through-balls straight on goal, so it's going to be a very similar game."