Homecoming court announced
Lansing High School homecoming activities continue this week with the coronation of this year's homecoming king and queen during halftime of Friday's football game against Bonner Springs.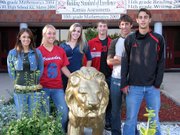 LHS students cast their final votes for homecoming king and queen Monday from a pool of three senior males and three senior females.
King candidates are Alex Burton, Stefan Froelich and Nate Markovetz. Queen candidates are Courtney Hall, Abby Hauver and Elizabeth Cristiano.
Homecoming court princes and princesses who were chosen to represent the underclassmen are:
Freshmen: Scott Roberts and Katelyn Griffen
Sophomores: Evan Fowler and Nichole Goff
Juniors: Michael Gonzalez and Kelsie Hudson.
Homecoming festivities conclude with a dance from 8 to 11 p.m. Saturday.