Lansing native represents United States at Youth Friendship Games in Holland
When Preston Padgett watched former University of Kansas star Kirk Hinrich and the USA Basketball team compete at the world championships this summer, the Lansing Middle School seventh-grader could relate - to some extent - to what Hinrich and his teammates were going through.
Just like the American professional basketball stars, Padgett represented the United States on the basketball court as a sports ambassador this summer. The 13-year-old spent two weeks in Holland in August at the Youth Friendship Games.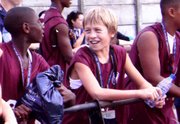 "It felt good to be representing the United States and playing against other countries," Padgett said.
The Youth Friendship Games is conducted by People to People, an organization that was founded in 1956 by President Dwight D. Eisenhower. According to the organization's web site, the program hopes to encourage "meaningful exchanges between young people of different cultures through official meetings, educational site visits, and athletic competition, all of which create deep cultural understanding, probe a nation's history, and launch long-lasting friendships."
In addition to basketball, the Youth Friendship Games also includes baseball, bowling, soccer, swimming, tennis, volleyball and wrestling as sports it sponsors. Athletes may participate in one sport per year at the Games.
Padgett went through a lengthy process before making the final cut. He was nominated anonymously for the program. Next, he filled out an application and went through an interview process. In the end, five teams of 10 players were selected to represent the United States. Padgett made the cut.
Padgett said he was excited when he learned he'd been selected. He'd never been overseas before, and he was eager to play basketball against athletes from other countries.
He flew to Holland by himself to meet his team. His family joined him a week later.
Padgett competed in the 11-14 age division. At 5-foot-5, he said he was one of the shortest players on the court. Still, size wasn't much of an obstacle for him, he said. The greatest challenge was adjusting to different rules. In international basketball, the three-point arc is a foot farther back and the lane is a trapezoid instead of rectangular. Also, instead of shooting two free throws worth one point apiece, players shot one free throw worth two points.
Padgett was selected to be the captain for his team, the Caribou. Padgett's team won just one of its six games during the tournament, but later he was selected to play for the USA All-Stars in a game against the European All-Stars. Padgett scored three points in the game, and the Americans won by two points on a last-second free throw.
"That was almost like the championship game," Padgett said. "There were kids all around the court."
Basketball wasn't the sole purpose of the trip. It also was educational. Twenty-nine countries were represented at the Games, and Padgett said he enjoyed meeting athletes from around the world.
"That's why they call it the Youth Friendship Games; because you make friends over there from other countries," he said.
The athletes also toured the Anne Frank House and visited numerous cities throughout the Netherlands, including Amsterdam and Haarlem.
Padgett said he enjoyed the food in Holland, noting that 'their seafood and their chicken are good."
Padgett's mother, Joan Padgett, said the experience helped her son mature.
"I saw him grow in leadership skills and understand that it's OK to accept other people even though they are different because barriers come down," she said. " He has friends he has e-mailed and has addresses for from other countries and across the states. Whether they had different backgrounds or are from different countries, that barrier came down. As a parent, that's really exciting to see."