Lansing shows improvement, seeks first victory against Bonner
The scoreboard continues to be unkind to the Lansing High football team, but the quality of football the Lions are playing is getting better.
That's the way LHS coach Bill Pekarek prefers to look at his squad's heartbreaking 27-26 loss to Santa Fe Trail on Friday, Sept. 15.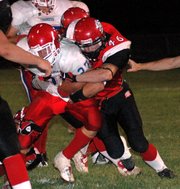 Lansing lost for the third time in three tries, but its offense moved the ball effectively for the first time all season. A rushing game that mustered just 62 yards in the first two games exploded for 225 yards against Trail. The Lions also nearly doubled their season point production after combining for just 27 points in the first two games.
A direct cause of the increased production was the improved play of the young offensive line. Better blocking up front allowed the ground game to step up.
"We just hope that we keep getting better each week and we start executing more plays," Pekarek said.
The Lions also are playing better defense. They've played with the poise of a veteran unit for most of the last six quarters, and they allowed Trail only 20 yards of offense in the second half Friday. The few defensive mistakes they've made all have been big ones, though. Whether it was surrendering a 72-yard passing play on third-and-long two weeks ago against Perry-Lecompton, or letting Trail kick returner Ryan Fike take a kickoff back 83 yards for a score, big plays remain a pain in the Lions' side.
"It's the little mistakes that get us. They turn out to be the big plays in the game," said junior linebacker David Dickson, who made a team-high 12 tackles and recovered a fumble against Trail. "We just have to correct those little things."
Lansing will try to pick up its first victory of the season at 7 p.m. Friday when it plays host to Bonner Springs in the LHS homecoming game. Bonner is just 1-2 this season - its lone victory was a 17-16 decision in its season-opener against winless Basehor-Linwood - but the Braves are led by one of the Kaw Valley League's most dangerous running backs in Tyler Jock. Jock put up 197 all-purpose yards against Basehor, but he has been effectively contained since then.
The Lions struggled to stop the run during their first two games, but they corrected their mistakes against Trail. After allowing an average of 200 yards rushing per game in the first two contests, they surrendered just 85 yards on the ground against SFT. Of those yards, 52 came on one play.
Lansing has been on the brink of victory each of the past two weeks. Friday the Lions will try to put everything together.
"We're trying to do whatever we can do to win a game," Pekarek said. "It's killing all of us because we know we're a better team than what we're showing, but we're young enough that we're making some errors. We're trying our best to eliminate errors and get everybody on the same page.
"I think we've made some strides toward being a better football team. We just have a few more to go and we're there."
NOTES
The Lansing Lions Booster Club will play host to a pregame tailgate party beginning at 5 p.m. Friday.