Re-enactors deal with reality
Lewis and Clark expedition re-creation returns to Leavenworth
Sometimes the title "re-enactor" is a little off.
As a member of the Discovery Expedition of St. Charles, Mo., Lynette Trotter, a retired art teacher who lives in Lansing, is helping to re-create Meriwether Lewis and William Clark's 200-year-old journey. But even though it's a re-creation, Trotter stresses that the group faces plenty of reality.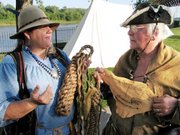 "I always tell people, 'We're re-enactors, but the river is real, the weather is real, the lightning is real,'" Trotter said.
Trotter and the other members of the nonprofit group stopped in Leavenworth on Thursday, Sept. 14, as part of a journey celebrating the bicentennial of Lewis and Clark's expedition.
This year, the group has been making the return journey from Fort Clatsop, near Astoria, Ore., where Lewis and Clark spent the winter of 1805-1806. They started in late March, and they're expecting to reach St. Louis on Saturday, Sept. 23, which will bring the trip to a close.
Trotter has used her experience as an art teacher to re-create many sketches and drawings that were made by the original expedition. She has sketched various species of plants and animals that Lewis and Clark discovered, including the "raccoon grape" and the "osage orange," more commonly known as a hedge apple.
Three years ago, Trotter and her husband, Bill Stewart, joined the expedition retracing Lewis and Clark's expedition from Elizabethtown, Pa., to Camp DuBois, near Wood River, Ill. Two years ago, they went from Camp DuBois to Fort Mandan, N.D. Last year, they backtracked from South Sioux City, Neb., to St. Louis.
The group members wear authentic period dress, travel in replicas of the explorers' keelboats and pirogues, and take on the persona of members of the expeditionary crew.
And to preserve historical accuracy, the women in the organization have been mostly absent onboard the riverboats. Instead, a caravan of RVs follows the boatmen along the river.
"We have slept next to the railroad for three years," Trotter said.
Joanne Bishop, whose husband built the bicentennial group's original keelboat in the back yard of their home, has also been traveling alongside the group. But the inconvenience of having to ride alongside the boats is nothing compared to the challenges the group has overcome.
Besides the hardships the group has shared - the heat, mosquitoes and weather, to name a few - they've even had to cope with larger disasters.
For instance, they had to rebuild the main keelboat after the first replica burned.
But it's been an extraordinary adventure, Bishop said.
"We just never believed that this was finally going to happen, though we had worked at it all these years," Bishop said.