Mass of Christian Burial for Roy F. Earls, 88, St. Joseph, Mo., was Friday at St. Patrick Catholic Church, St. Joseph. Burial was in Mt. Auburn Cemetery, St. Joseph.
Mr. Earls died Tuesday, Sept. 12, 2006, at his home.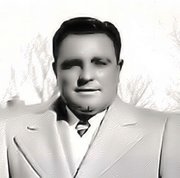 He was born March 15, 1918, in Peno, Okla.
Mr. Earls was a retired deputy warden for the Kansas State Prison. He served nine years in the U.S. Army; during World War II, he served in the European Theater and received the Purple Heart and Bronze Star during the Battle of the Bulge. He retired from the military after serving 11 years in the U.S. Air Force.
Mr. Earls was a member of American Legion, Kansas Peace Officers Association and Air Force Sergeants Association.
He married Betty Lang on Oct. 25, 1941, at Sacred Heart Church in Bonner Springs. She survives of the home.
Additional survivors include a son, Roy David, Climax Springs, Mo.; two daughters, Barbara J. Watkins, Mason City, Iowa, and Lu Ann Cummins, Lansing; seven grandchildren; and three great-grandchildren.
The family suggests memorials to St. Patrick Catholic Church, 1813 S. 12th St., St Joseph, MO 64503, or Girls and Boys Town of America, Boys Town, NE 68010.
Heaton-Bowman-Smith & Sidenfaden Chapel was in charge of arrangements.