FINALLY

!
Lions pick up first win in 27-7 victory over Braves
The Lansing High locker room roared Friday night, and it was a long time coming.
After three straight losses to start the season, the LHS football team pounded Bonner Springs, 27-7. That meant the Lions finally got to do their locker room victory chant.
Photo Gallery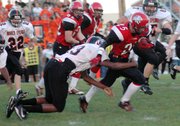 LHS nabs first football victory
The chant - a ritual that includes verses praising the coaches and players at every position, as well as plenty of pounding on lockers - went unheard for three long weeks.
In a sense, Friday night was a coming out party for both the chant and the Lions because both returned with a vengeance.
"We needed that," senior lineman Billy Bayles said of the victory celebration. "It was such a big rush, man, just hearing everybody going crazy after the huge win."
Lansing was dominant on both sides of the ball. Offensively, senior quarterback J.T. Collins guided an efficient offensive attack. The wide receivers shook their pass-catching woes of the early weeks and made a slew of big catches. Senior tailback Kyle Grape had 30 carries for 169 yards and two touchdowns. In contrast, LHS rushed for just 62 yards in the first two games of the year combined.
Meanwhile, the LHS defense allowed Bonner to gain just 211 yards of total offense. Standout running back Tyler Jock had 155 of those yards on the ground, but most of them came on two big plays. Other than that he was largely ineffective.
Lansing (1-3 overall, 1-3 Kaw Valley League) played by far its best game of the season, and it marked the first time all year the Lions put together four quarters of solid football.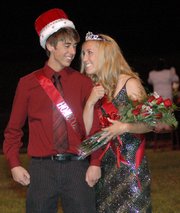 "It's a big weight off our shoulders," said senior wide receiver Brad Zink, who made a team-high three catches for 49 yards. "We had high expectations coming into the season, and today we answered them."
The Lions' breakthrough performance didn't start off as rosy as it ended. Collins threw an interception on the first play of the game and handed the Braves the ball with prime field position. The defense held its ground, though, and the Lions avoided any early heartache.
It wasn't until Lansing's third possession that it finally built some momentum. That momentum came in the form of a touchdown. A mix of runs by Collins and Grape allowed the Lions to march 39 yards to the Braves' 29-yard-line, but that's where the drive appeared to stall. Junior receiver Stephen Didde caught Collins' fourth-down pass in coverage, though, and then toppled across the goal line for a touchdown with 1:43 left in the first quarter. Brad Terron's extra point made it 7-0.
Bonner (1-3, 1-3) mustered its only dangerous drive of the first half midway through the second quarter. Braves quarterback Willie Wilson hit receiver Anthony Brown on a pass play that went for a 31-yard gain. An 18-yard run by Jock and an personal foul penalty against LHS put the Braves on the three-yard-line.
In danger of losing the lead, the Lansing defense rose up. Wilson handed off to Jock on a run up the middle. The junior running back fumbled and LHS sophomore Tyler Strouhal recovered it.
Lansing threatened to score again before halftime by driving 67 yards to the Bonner 23-yard-line before a delay of game penalty and a sack pushed the Lions back. Although they didn't score on the drive, they built confidence with a pair of big catch-and-runs by Bobby Hauver and Joe Kohl. Those plays helped the Lions regain the momentum and keep it into the second half.
As if pitching a shutout in the first half didn't give the LHS defense enough confidence, the Lions added a little more swagger by stuffing the Braves on their first possession of the third quarter. First the defense smothered the run. Then senior defensive end Angelo Barron nearly recovered a fumble. Then Bayles sacked Wilson for a five-yard loss and forced the Braves to punt.
The offense fed off the defense's intensity and used it as fuel to put together a 46-yard drive that was capped by a five-yard touchdown run up the middle by Grape. That gave LHS a 13-0 lead with 4:56 left in the third quarter.
Bonner wasted no time responding with a score of its own just 1:50 later. Jock slipped through the middle and squirted outside for a 57-yard run. Chris Hill and Justin Smith tackled him on the one-yard-line to prevent the touchdown, but Ryan Cooper punched it in on the next play. Justin Moulin's extra point made it 13-7.
For Lansing, Bonner's touchdown provided an opportunity to show some maturity. Unlike previous games, there was no sulking after the opponent's touchdown. Instead, the Lions hit back with an 11-play, 66-yard drive that gobbled up five minutes of clock. Fullback Daniel Eyerly had one carry and Zink made a 15-yard reception during the drive, but the other nine plays were handoffs up the middle to Grape. Simple but effective. The drive ended with Grape busting up the middle for a four-yard score. Collins connected with Didde for the two-point conversion that made it 21-7.
"(That drive) was real big, because if you look back on the past couple of games, we gave up big plays and then we all got down. From there it was mistake after mistake after mistake," Grape said. 'We made a big mistake this time - they scored on us - and we just came right back and marched it down and scored again on them. That's good. We kept our intensity up for four quarters. That's what we need to do the rest of the year and we'll be fine."
The LHS defense held Bonner to a three-and-out on its next possession. Then Lansing rode a series of Grape runs and a big third-down catch by Zink before senior Cameron Schiller scored on a one-yard run that capped an emotional victory.
"These guys have been working hard for four or five weeks and they (hadn't) come up with a win," LHS coach Bill Pekarek said. "It's hard to go out and work hard when you're not getting good results, so I'm happy for them that we finally put it together and got the win that we probably deserved a couple games ago."
Lansing next plays at 7 p.m. Friday, Sept. 29, at Basehor-Linwood. The Bobcats picked up their first win of the season Friday with a 6-0 victory over Clinton.
NOTES
- Seniors Stefan Froelich and Abby Hauver were crowned homecoming king and queen at halftime.
- Kyle Grape carried the ball 30 times for a season-high 169 yards. The LHS offense had 219 yards rushing on 49 carries.
- J.T. Collins completed seven of 16 passes for 133 yards and a touchdown.
- Brad Zink caught a team-high three passes for 49 yards. All three grabs came in third-down situations.
- Bonner's Tyler Jock had 18 carries for 155 yards. The rest of the Braves accounted for 10 carries and 11 yards.
- Joe Kohl led the LHS defense with 11 tackles. David Dickson had nine stops, Mycol Bowen had seven, Tyler Strouhal had six and Billy Bayles had five.
- Lansing outgained Bonner in total offense 352-211.
- Lansing was penalized nine times for 86 yards. Bonner was flagged 10 times for 69 yards.