LHS

tennis steady at Wildcat Invitational
De Soto — The Lansing High tennis team pulled off a whopper of a juggling act Saturday as it managed to overcome a two-hour rain delay and complete the Wildcat Invitational - all in the nick of time before attending the homecoming dance at LHS.
Senior Heidi Schultz placed fourth and junior Lauren Elkins placed seventh in singles. Junior Christine Cordes and freshman Amy Briggs placed seventh in doubles.
Photo Gallery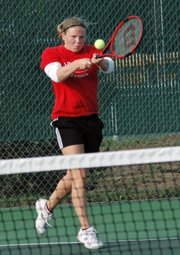 LHS tennis steady at De Soto
Schultz said the Lions were pleased to have so many people place in the winner's bracket, but she said they could have performed better if they'd been more focused.
"A lot of girls had their minds (elsewhere). They just wanted to get to homecoming on time," she admitted. "I think that was a big factor, actually. I think that we really could have played harder, but I'm happy with today."
LHS coach Rachel Elkins agreed with Schultz. The coach was no different than the other tennis parents Saturday in that she too had to race home to help her daughter - Lauren Elkins - get ready for the dance.
Schultz was steady almost all day. She cruised in her first match against Stephanie House of Atchison, 8-0. Then she rolled past Megan Paulsen of De Soto, 8-4. Perhaps a bit distracted as the afternoon dragged on and homecoming got closer, Schultz stumbled. She dropped an 8-1 decision to Brandi Rhodes of Mill Valley and then lost 8-2 to Bre Alholm of Kansas City Christian.
In just her first week playing singles after switching from doubles, Lauren Elkins showed plenty of growth Saturday. She started the day by holding off Laura Scott of De Soto in a tiebreaker, 8-7 (2). After an 8-2 loss to eventual champion Kim Francis of Kansas City Christian, she bounced back and won another tiebreaker. This time she rallied for an 8-7 (4) victory against Kelsey Horton of Gardner-Edgerton. It was this match where Elkins played her best tennis of the day as she made a stunning comeback from a 7-1 deficit.
Elkins said the victory would help her confidence in future matches.
"I know not to give up even when I'm down 7-1," she said. "I know I can actually come back."
Elkins lost her next match to Katie Burris of Leavenworth, 8-4, and then beat Doro Escher of Gardner-Edgerton, 8-4, for seventh place.
Briggs and Cordes also had a day of solid growth. The new doubles partners posted a 3-2 record on their way to a seventh-place finish.
"We started to hit our shots and make our shots," Briggs said. "We're also talking more."
Briggs said the improved communication helped them be successful. They opened the tournament with an 8-1 victory against Rebecca Shanks and Lauren Noll of Atchison. A second-round loss to Rosa Jones and Kelsie George of Gardner-Edgerton didn't dampen their spirits, though. Instead, Briggs and Cordes bounced back with an 8-2 victory against LHS teammates Abby Hauver and Sarah Sargent.
After a tough 8-5 loss to Suzie Gulley and Hannah Konetzni of De Soto, the tournament's No. 2 seed, Briggs and Cordes closed out the day with an 8-1 win against Agi Powell and Ciarra Hartley of Leavenworth.
Hauver and Sargent went 1-2 in doubles. They lost their first match to Sara Exon and Alex Bieber of Mill Valley, 8-2. Then they beat Hannah Elias and Shanise Martin of Atchison, 8-5, before Cordes and Briggs eliminated them from the bracket.
Lansing next plays at 4 p.m. Monday at Kansas City Christian and 4:30 p.m. Tuesday at Perry-Lecompton.