Lions place second at Louisburg
LHS

has won nine of last 10 matches
Louisburg — This year's Lansing High volleyball team is younger than any LHS coach Julie Slater has had in recent memory, but this batch of Lions appears to be jelling right on schedule.
LHS posted a 5-1 record Saturday at the Louisburg Tournament and placed second. Lansing's only loss came to tournament champion Paola, 25-20, 25-22.
Photo Gallery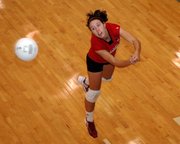 Lions place second at Louisburg
The Lions (16-7) have won nine of their last 10 matches.
Nine of Lansing's 12 players are new to the varsity level, so the Lions have been understandably inconsistent this season. They played consistent almost the entire evening Thursday when they swept Bishop Ward, Bonner Springs and Pleasant Ridge.
That consistency continued Saturday at Louisburg as LHS rolled over Prairie View, 25-12, 25-14, in the first round and then hammered Louisburg, 25-7, 25-21. After that, Lansing cruised against Osawatomie, 25-12, 25-22.
After a quick lunch break, Lansing returned to the court and promptly pounded Fort Scott, 25-12, 25-17. Brittney Lang and Jessie Delinger had six kills apiece in the match.
Lansing's consistency wavered in its next match as Paola and powerful left-handed hitter Brittney Miller kept LHS off-balance. The Panthers jumped to a 7-0 lead in game one before the Lions stormed back with a 9-2 run and tied the match behind two kills and two blocks by Lang. The game was tied two more times before the Panthers pulled away.
Lansing was more focused in game two as it jumped out to a 7-5 lead. Paola answered with a 10-0 run, however, and appeared to have victory in hand. The Panthers' lead grew to 22-14 before the Lions roared back on Katie Nietzke's serve. The junior served the Lions to an 8-0 run as Lang thundered two more kills and blocked a shot to tie the game at 22-22. Erin Griffen added a solo block for a point during that stretch.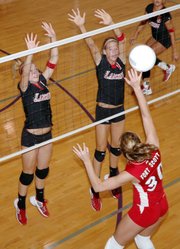 After Lansing's long run, Paola regrouped and scored the final three points and won the match.
Lansing beat Blue Valley in its final match of the day, 25-16, 26-28, 25-23. The Lions erased an 11-3 deficit in game three to earn the victory.
Slater said she thought her squad played consistent in every match but the one against Paola.
Breanne Sanders and Kristen Jensen shared the primary setter duties at the tournament. Sanders led LHS with 43 assists and Jensen had 41. Delinger led the offense with 32 kills, while Lang had 25, Rachel Milnark had 16 and Griffen had 10. Riann Deere led the defense with 35 digs. Morgan Chiles had 14 digs and Nietzke added 13. Courtney had a team-high 19 blocks and Lang had 18.
Although their play didn't show up as much on the stat charts, Slater said Griffen, Sara Logan and Elizabeth Cristiano all had a strong tournament. Cristiano provided steady relief off the bench, and Griffen and Logan played tough at the net and operated as the team's secondary setters throughout the day.
Lansing next plays at 5 p.m. Tuesday against Bishop Ward and Bonner Springs at Ward.