At 75, Robert Martz may be Lansing's oldest bachelor.
And ironically, he said staying single is a family tradition. Martz had four uncles on his father's side who never married.
"It's just probably the single lifestyle," Martz said. "It probably drifted into me."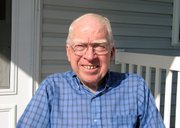 And though Martz is glad his father broke with the tradition, he's not sure why he differed from his brothers.
"I think he probably wanted to keep the family name going," Martz said.
But some traditions are hard to quell, and Martz is an only child.
Neither being an only child nor a bachelor has left Martz lonely, however.
Martz enjoys spending his time helping those in his church who may need a little assistance in their daily lives. After 33 years of service with the Dwight D. Eisenhower Veterans Affairs Medical Center, he retired and started working part time to maintain St. Francis de Sales Church.
Helping so many people has kept him busy, but Martz still gets away for the occasional race - he won the St. Francis de Sales SteepleChase 5K in 2005.
He also likes to travel abroad.
"The past three years we've made two trips to Europe," Martz said. "France and Italy."
Martz has lived within Lansing's current boundaries his whole life. Lansing annexed Richardson, the town of his childhood. But even the passage of time he has witnessed in this area would only be a snapshot in Europe, he said.
And especially as a handyman, the sturdiness of some of the structures astounds him.
"It's just interesting to see the old architecture and the buildings and how they built them," Martz said. "Some of their buildings last for centuries."
Name: Robert Martz
Address: 203 E. Carol St.
Occupation: Retired surgical technician, now working part time maintaining St. Francis de Sales Church
Graduate of: Lansing High School, Class of 1949
How long have you lived in Lansing and what brought you here? Lansing native.
What do you like most about Lansing? "Basically, I'd say it this way, for the friendliness, the peace, the quietness and the safety."
What do you do for fun? "Working in my church and helping other people who are unable to help themselves who may need a little extra assistance, overseas travel, camping, canoeing and general reading."
What would surprise people about you? "Probably not always accepting the changes and the progress of ideas as easily as they're always suggested."
What's the best advice you've ever received? "You're the first one to help yourself and the first one to hurt yourself."
What organizations or clubs do you belong to? St. Francis de Sales Church, Knights of Columbus, National Association of Retired Federal Employees