Lansing event to crown 'world's champ'
Tommy Taylor likes to think big, and so the new owner of Daniel's Bar-B-Q is bringing the World Championship Bar-B-Q Rib Eating contest to Lansing.
The event, sanctioned by the Association of Independent Competitive Eaters, will be Sunday, Oct. 15, at Daniel's, 834 N. Main St.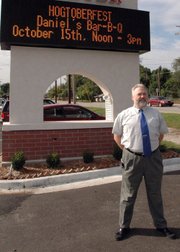 "As far as I'm concerned, this is a major event for Lansing," said Taylor, who in June purchased the Daniel's operations in Lansing and Tonganoxie.
The competition will be part of what Taylor is calling Daniel's "Hogtoberfest Celebration," which also will include a "Miss Daniel's Bar-B-Q" talent contest, trivia, a finger-painting with barbecue sauce competition for children, giveaways, food specials and celebrity judges. The event will run from noon to 3 p.m.
"It's going to be action-packed," Taylor said. "There will not be a boring moment."
But the highlight of the day will be the rib-eating contest, which will feature professional food-eaters "Gentleman" Joe Menchetti and Mark Lyle "The Human Vacuum."
Menchetti is a two-time winner at Italia Unita's Italian Sausage Eating contest in East Boston; this year he consumed 3.86 pounds of sausage in 10 minutes, besting last year's victory by 1 pound. He's also won contests eating apple pies, pastrami sandwiches, hamburgers, hot wings, jalapenos, pizza, spaghetti, Twinkies and hot dogs.
Lyle is fresh off of winning the World Reuben Eating Championship in Marshall, Mich., where he devoured 3 3/4 sandwiches in eight minutes. He's also won the War of the Wings Chicken Wing Eating Championship.
New York state egg-eating champion Chris "The American" Schlesinger also is expected to compete.
"These guys are heavy hitters," Taylor said.
The contest, however, is open to all comers age 18 and older, Taylor said.
"It can be anybody," he said.
Prizes will be worth any indigestion the winner has to endure: $500 and a trophy will be awarded to the champion rib-eater; $250 and a trophy will go to the second-place finisher; and $100 and a trophy will go to the third-place finisher.
To sweeten the pot, Taylor is offering a $100 gift certificate to the top amateur rib-eater and a $100 gift certificate to the top-finishing active-duty serviceman or woman.
"If an amateur wins the whole thing, he'll get the $500 plus the $100 (gift certificate)," Taylor said.
Taylor credits Daniel's former owner, Daniel Hipsher, with the idea to conduct a rib-eating contest.
"He'd been thinking about it for about a year and a half or so, but he held off and let me take the ball and run with it," Taylor said.
And run he has. He began researching food-eating competitions, how to get them sanctioned, lining up sponsors, judges, etc. Now he's ready for Daniel's to be part of a history-making event.
"There is no other event like this," he said. "I did the research. There have been chicken-wing-eating contests and other eating contests, but there's been no other sanctioned rib-eating contest."
To enter
People interested in either the Miss Daniel's Bar-B-Q talent show or the Daniel's Bar-B-Q World Championship Bar-B-Q Rib Eating contest, both part of Hogtoberfest on Oct. 15, can enter at www.competitiveeaters.com.
Rib-eating contest rules
This event will be a 10-minute contest sanctioned by the Association of Independent Competitive Eaters. There will be an initial seven-minute qualifying round followed by a three-minute and/or championship speed-eating round. The top four contestants from each round will go to the finals. The amount consumed in the qualifying round will be added to the amount eaten in the final round to get the Food Warriors totals.
Food Warriors will be given a 3-pound tray of ribs. Upon completion of each tray, an eater will be supplied with another 3-pound tray of ribs. Eaters will not be required to totally clean each rib but will be required to eat most of the meat off a particular rib before going to the next.
Winner(s) will be determined by the total amount of meat eaten off the bone. All trays will be pre- and post-weighed to determine the total amount consumed.
Eaters must observe Picnic Style Rules, which means that the ribs will be eaten according to tradition and meat should be removed from bone using teeth, tongue, lips and mouth and should not be taken off the bone then eaten. Should an eater be observed violating Picnic Style Rules he will be deemed in performance of a "picnic profanity" and will be disqualified.
Accidental and/or incidental separation is allowed.
Eaters who suffer a "reversal of fortune" and/or urges contrary to swallowing will be disqualified (and possibly laughed at). Eaters must hold down the meat for a period of two minutes after the contest.
The "Chipmunking Rule" will be in effect, which means that any meat placed in the eater's mouth at the very end of the contest must be swallowed within 30 seconds. Food Warriors in violation of the "Chipmunking Rule" will be penalized a half-pound.
In the event of a tie, the winner or top three finishers will be determined by a one-minute "Eat-off."
Creative participation is strongly encouraged, but good sportsmanship is required at all times.
Decision(s) by appointed judges is final. All contestants are required to check in by noon the day of the contest. You can register the day of the event.