LHS

to present 'Odd Couple'
In one week, Lansing High School students won't need late-night sitcom reruns to enjoy the famous mismatched tandem of Oscar and Felix.
LHS drama students will perform "The Odd Couple" at 7:30 p.m. Oct. 5 and 6 at the Lansing Intermediate School auditorium.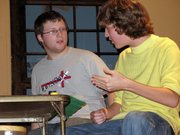 Since its Broadway debut in 1965, "The Odd Couple" has entertained generations in film, television and even animated adaptations.
Drama Club sponsor Carla Scovill said the play's success lies with the script-writing talents of its author, Neil Simon.
"It's so funny. Literally, the lines as written, are just funny. It's just kind of a show that everybody knows and loves," she said.
"The Odd Couple" tells the story of a pair of mismatched roommates in 1960s New York. After his wife throws him out, Felix, a newswriter, moves in with Oscar, a recently divorced sportswriter.
Oscar, played by senior Matt Peterson, is the slob, and Felix, played by sophomore Aaron Keeling, is the persnickety one.
The play opens at their apartment, where a regular poker game takes place with their friends Speed (junior Zach Beatty), Murray (junior Bud Kings), Roy (junior William Dolan) and Vinnie (sophomore Austin Keeling).
But the play doesn't just follow the lives of witty middle-aged men.
Senior Lauren Summers and freshman Katie Hansen round out the cast as sisters Gwendolyn and Cecily Pigeon, Oscar and Felix's neighbors.
The script's quick banter has proved challenging for some of the actors, who are presenting the fall play about a month earlier than in previous years.
The play was moved up to allow time to prepare for the musical, "Once Upon a Mattress," which will be performed later this fall.
"We have a little less time to work with this year. The lines are kind of sporadic in this. A lot of them don't have to do with the one before it, so I think that's what's getting a lot of people with their lines," Austin Keeling said.
When cast members' memories need a boost, assistant director Luke Bohannon, a sophomore, is ready with the script.
Scovill said it had been about 25 years since LHS had performed "The Odd Couple," which she called a perennial "audience pleaser."
She said the cast and crew especially enjoyed learning more about the play's setting.
To help identify which props and costumes to procure, the cast and crew perused Life magazines from the late '60s.
Remember acrylic grapes, humongous glasses and double-decker coffee tables?
"I chose to set it in 1968 rather than update it because that's another thing that the kids learn - just the styles, the clothing, the little things that will be on the set to designate the period," Scovill said.
If audience members look closely, they'll see childhood photographs of Scovill and her brother on the apartment's bookshelves. And the Pigeon sisters will wear clothing that Scovill's mother wore in the '60s.
Additional assistance with clothing, props and the set comes from Katie Dismer, Rachel McCabe, Kirsten Fowles, Rosy Padilla, Steve Thomas, Derek Vance, Kristin Brandt, Rita Edmonds and stage manager Jacob Thomas.
Danielle Civils and Ricky Walter are helping with publicity.
Tickets can be purchased at the door. Prices are $3 for students and $4 for adults.