Lions put personal touch on home meet
Jaqua wins first prep title, leads strong
LHS

contingent of medalists
Leavenworth — For the first time in recent memory, there was a definite Lansing High presence at the Lansing Invitational cross country meet.
There weren't just one or two LHS runners in the medals Thursday at the University of St. Mary. Instead, the top 25 was loaded with Lions, including girls champion Lauren Jaqua.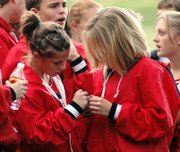 Jaqua, a freshman, earned her first high school title by blazing the four-kilometer course in a personal-record 16 minutes, 40 seconds - 28 seconds ahead of runner-up Kelsey Carbajo of Spring Hill.
"It's really special," Jaqua said of winning her first prep title at home. "I'd heard about the competition and stuff, so we were all psyched up to do really well at our home meet."
Although Jaqua has run only four cross country races in her young career, she already is fine-tuning her racing strategy. LHS coach Errol Logue said Jaqua's commitment to her race plan paid off.
"We've been working with Luarne on developing her own style," Logue said. "I told her I don't want her to run against the rest of the field. I want her to run her own race, and that's to get out and run (at the beginning) and get stronger in the middle part. We know she's a strong closer."
Logue also had rave reviews for Lansing's other medalists in the girls race. Freshman Abbey Lozenski turned in a stellar performance by placing eighth in 18:11. Lozenski learned from Monday's rough race at Tonganxoie and made sure she started faster. That paid off as she earned her second top 10 finish of the year. Senior Lori Flippo also medaled by placing 18th in 18:34.
Flippo said she was proud of the fast freshmen, and she said she credits them with her success so far this season.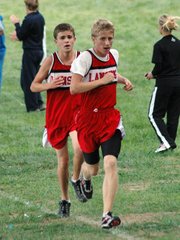 "I'm impressed with them," Flippo said. "For them to only be freshmen, they're really pushing me. I wouldn't be anywhere near as good as I am now if it weren't for them. They keep me going. We're real close, and we help each other a lot."
Amanda Mitchell and Emilee Taylor rounded out Lansing's varsity five. Mitchell placed 39th in 20:48 and Taylor was 43rd in 21:58.
Basehor-Linwood claimed the girls team title with 35 points. Ottawa was second with 53, followed by Christ Prep Academy with 87, Lansing with 88 and Kansas City Christian with 113.
Freshman Brandon Craig led a balanced attack for the LHS boys in the five-kilometer race by placing 12th in 19:10. Sophomore Matt McCurry finished 15th in 19:15, junior Griffin Davis placed 20th in 19:40 and sophomore Wes Appleget was 22nd in 19:48.
Sophomores Trenton Dorf (28th, 20:05) and Greg Bremser (29th, 20:06) and senior Brandon Mills (31st, 20:11) rounded out the LHS varsity. Christ Prep's Kyle Gillett was the overall champion in 17:47.
The Lansing boys placed fourth as a team with 97 points. Ottawa won the team title with 47 points.
Lansing was well represented in the junior varsity races as well. In the 5K boys race, three Lions placed in the top 10. Michael Hornick placed fourth in 21:13, A.J. Glowacki was fifth in 21:17 and Joe Bagby finished ninth in 21:50. Other LHS runners were Alex Twitchel (20th, 22:38) and Russell Buchanan (43rd, 29:36).
In the JV girls race, sophomore Ellie McNeill made her season debut after missing the first three meets with an injury. She placed 11th in the 4K race in 21:23. Andrea Shanks was 13th in 21:27 and McKenna Hall was 19th in 22:29.
Logue said he was proud of the performance by his JV runners. A number of them turned in season-best times.
"They've been working hard and some of them have been struggling, so this is a good reward for them," Logue said. "You've got to have some reward to stay with it."
Thursday's success was a sweet midweek reward for what is a busy week for the Lions. They also raced Monday at the Tonganoxie Invitational and they'll compete again at 10 a.m. Saturday at the Rim Rock Farm Invitational in Lawrence. Rim Rock is known for being as beautiful a course as it is daunting. The most notorious part of the course is "suicide hill" about a half-mile from the finish line.
Saturday will be more than just a memorable day on a famous course for the Lions. It'll also be a chance for them to preview the course where the Class 5A state meet will take place Oct. 28.
Logue said he wants his runners to take good notes about the course so they'll be familiar with it if they make it to state. Jaqua said she will be very attentive.
"I'm definitely going to take notice of it, especially the hills," she said. "Hopefully I'll get to come back and run it again and give it a better shot if I get that chance."