Longtime county employee wheels into retirement
Forty-one years and 29 days after he first walked onto his job as a bridge worker for Leavenworth County, Mel Sewell is retiring.
Dozens of co-workers, vendor representatives, family and friends gathered Tuesday, Sept. 26, at the Leavenworth County Shop to wish Sewell, the county's road superintendent, a happy retirement.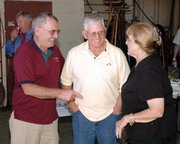 County Commission chairman Dean Oroke presented Sewell with a plaque commemorating his years of service and thanked him for his long tenure with the county.
"There are a lot of roads that used to be gravel roads that Mel has seen improved probably two or three times," Oroke said, noting the difficulty the county would have replacing the institutional knowledge Sewell brought to the job.
Sewell acknowledged he's had a hand in more than a mile or two of gravel road being blacktopped during his career with the county.
"I've seen 100-plus-some miles of road converted to blacktop, and no telling how many bridges and culverts installed," Sewell said.
In his four decades with the county, Sewell has worked for 15 Public Works Department directors; he said he'd have to take some time to figure out how many county commissioners he'd served under.
When he first came to work for the county in 1965, Sewell was one of 13 people working on a road and bridge crew. Today, there are more than 50 people working out of the county shop.
Through the years and the hundreds of projects in which he's been involved, Sewell said one stands out above the others.
"The 250-foot bridge we built over Stranger Creek north of Jarbalo," he said.
The span took about five months to complete in 1978 and cost about $50,000.
"Nowadays it'd cost in the neighborhood of $500,000," Sewell said.
Health problems helped Sewell decide now is the time to retire.
He said a recent operation gave him a new lease on life, and he's ready to spend time relaxing with his wife, Sandy.
Ironically enough, roads will continue to be in Sewell's future; only now instead of building them, he'll be driving on them in the couple's fifth-wheel recreational vehicle. They'll take off this weekend for a trip to Omaha, Neb. - and Sewell said it would be one of numerous trips down the road.
The new retiree said he wouldn't use the fifth-wheel year-round, but it would see plenty of use.
"Not so much in the winter, but the other three seasons, yes," he said. "We'll come home, I'll mow the grass, and we'll go again."