The circle grew as they prayed for the military, leaders, their school, freedom and each other.
The prayers weren't always audible over the roar of the nearby bus engines, but the group didn't let the noise interrupt their 20-minute prayer session around Lansing Middle School's flagpole Wednesday morning.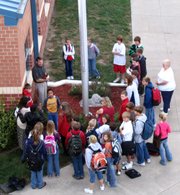 With LMS teacher Ron Averill leading, a group of 30 students, parents and teachers gathered to observe "See You at the Pole" before school.
Averill, who also sponsors a weekly student Bible study before school on Thursdays, said LMS has celebrated the event for several years, and it usually attracts between 20 and 25 people.
"It's a positive thing to see how strong the kids are in their faith and their willingness to be a part of that. It says a lot about our community and the school that we have a strong turnout and strong support," Averill said.
The event began in Texas in 1990 when a group of teenagers assembled around flagpoles and prayed for their friends, schools and leaders.
Averill said the annual event helped students realize they could share their faith with others and also promoted the ecumenical Bible study that he has sponsored at LMS for eight years.
He said it was important for middle school students to know they are not alone.
"We're here to lift each other up and to reach out to the world," Averill said. "Middle school is such a transition time.
"We need to have a support group, whether we're a kid or an adult, and especially the middle school years can be pretty lonely sometimes."
Around the flagpole, Averill read several Bible passages, and participants took turns praying aloud.
Sixth-grader Jake Wood prayed "for the troops and for everyone to be strong in their walk with God."
Nearby, a mother and daughter embraced inside the circle.
Tammie Sparks said she attended the event with her daughter Kathryn to show support for LMS students and their faith.
"I just want them to be able to have the courage to stand up against negative peer pressure and take a stand - a positive stand," Tammie said.
Kathryn, a sixth-grader, said she prayed "for the military and that kids will learn about Jesus and they won't bring stuff to school to hurt anyone."
Lansing resident Terry Busch attended the event after hearing about it from an LMS parent.
Busch's son Matthew Menzel is a kindergartner at Lansing Elementary School.
Busch said she was proud of the students for standing up for their beliefs and came to show her support.
"I am overwhelmed," Busch said. "I just wasn't aware that they did this. It's refreshing."