Season in a snap
Four-week season keeps tennis players on the move
If anybody wants to know what it feels like to be trapped in a Kansas tornado, just ask a member of the Lansing High tennis team.
After all, that's how it must feel to endure the Lions' whirlwind schedule during their month-long season.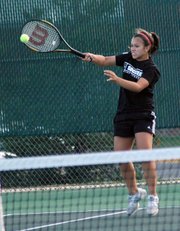 The junior varsity team has just 36 days between its first and last competitions of the season. For the varsity, that window narrows to just 32 - and that's if the Lions advance to state. If not, they squeeze all of their tournaments into just 23 days.
"That's a pretty tight window to grow and groom a new team," LHS coach Rachel Elkins said, noting that just one varsity player returned from last year's team.
But that's the hand the Lions - and other tennis teams across the state - are dealt. They are forced to squeeze in a season's worth of tennis in a matter of weeks before the weather turns too cold to play.
LHS endured the toughest portion of the schedule during the past six days as it played in a junior varsity tournament in Baldwin, a varsity tournament at De Soto and two full-squad duals. All of that was in addition to the Saturday night homecoming dance.
"It's really tiring," admitted freshman Amy Briggs, who played in all four of the outings.
Senior captain Heidi Schultz agreed, but said the fact that the Lions are a close-knit team made it easier to handle the busy schedule.
"We're all suffering together," Schultz joked. "That makes it a little bit easier."
Schultz said the busy month proves challenging academically.
"It's hard to have three meets a week, especially back-to-back," she said. "You miss a lot of school. I have really hard classes, and a lot of the other girls are taking physics, so it's pretty strenuous."
Junior Lauren Elkins agreed.
"It's like a game of catch up all the time," she said.
Although the players garner the biggest spotlight during the season, Schultz said they aren't the only ones who sacrifice school and sleep to make the season successful.
"Coach has it the worst," Schultz said. "And Cassandra (Murphy), our manager, she really makes this team what it is. Coach has to bounce back from two places where we play, and Cassandra is some of the glue on the team."
For Rachel Elkins, the greatest challenge presented by the short season is that practice time is so limited. The Lions practice for about three weeks before playing their first tournament, but once they start there's little time the rest of the season to practice and make adjustments.
"The girls will want to fix something in practice, and I say, 'Girls, we're playing Monday and Tuesday, and then we're out again next Saturday,'" Elkins said.
Fortunately for the Lions, they have today and Friday to practice before they play at 9 a.m. Saturday at the Gardner-Edgerton Invitational. Elkins said most of that practice would focus on serving and correcting technique mistakes.
Practice will be short, though, because the Lions have some more catching up to do.
"We're going to go over some stuff that I wrote down from these last few matches," Elkins said. "And then I'm going to get them home to do some homework."