Students treasure China memories
Like the host families who hugged them tight and wouldn't let go, the memories of a trip to Kaifeng, China, linger for Lansing High School students Rachel Schifferle and Rita Edmonds.
Six months later, the teens continue to praise the Chinese people and culture they grew to love during their two-week stay in March.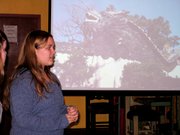 "The food, the culture, the activities : It was life changing," Edmonds said.
The teens shared their memories - and a myriad of souvenirs and photos - last week during a presentation to the Leavenworth County Chapter of Delta Kappa Gamma, a society of female teachers.
The students' trip was part of a three-year partnership that began in March when Schifferle and Edmonds headed to China with six fellow students and three LHS teachers.
They toured the school in Kaifeng and sights in Shanghai, Beijing and Xian.
The presentation came as LHS staff and students prepare for a seven-day visit from two students and three educators from Kaifeng that is expected to occur later this fall.
Despite inconveniences such as a 4 a.m. departure from Lansing, Hepatitis A shots and having to sleep on hard wooden planks at their host families' homes, the teens said they couldn't wait to return some day and experience another warm welcome.
"The culture is drastically different. They want to know about other people. They want to know about America," Edmonds said.
Besides tours of world-famous locales such as the Great Wall of China, Tiananmen Square and the Terra Cotta Warriors, the group also visited a commune.
Schifferle explained that there was only one bed at the commune, and it was reserved for the matriarch and patriarch of the family.
"It was really sad, because these people had been living in a cave their entire lives, and they didn't really know what was out there. They thought this was the best life they could have, even though there were so many opportunities outside," Schifferle said.
The teens described their hosts as friendly and accommodating, never letting them pay for anything or help with chores.
"My host family was so accepting of me, and that's not something you would get in America, I don't think," Schifferle said.
The trip provided them with first-hand evidence of the differences between American and Chinese cultures, while also offering a glimpse of some similarities.
Schifferle said that while the educational structure is different from America - the students attend school almost year-round without heating or air conditioning - the teens' personalities were the same.
"Some people were taking notes, some people were messing around. You're still teenagers no matter where you are," Edmonds said.