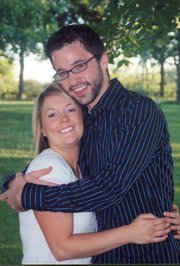 Mark and Penny Wise, Basehor, announce the engagement of their daughter, Lisa Wise, Olathe, to Darin Freeburg, Olathe.
The bride-to-be is a 2003 graduate of Lansing High School and currently is a student at MidAmerica Nazarene University. She will graduate in May 2007 with a degree in biology and plans to attend school to become a physician's assistant.
The prospective groom is the son of Stan and Janelle Freeburg, Hannibal, Mo. He is a 2002 graduate of Topeka Shawnee Heights High School and a 2006 graduate of MidAmerica Nazarene University. He is employed by Commerce Bank.
The couple plan a wedding on Jan. 5, 2007, at Tonganoxie Historical Society Church.