Youngsters watch butterflies take flight
A unit that began with "The Very Hungry Caterpillar" ended Friday in a flutter of excitement at Lansing Elementary School.
As students in Andrea Rothmeyer's and Vickie Kelly's kindergarten classes prepared to release dozens of colorful butterflies, anticipation filled the fall air.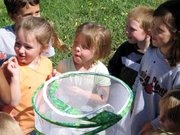 "With the morning class, I found out that if you're really loud the butterflies stay in there," Rothmeyer said. "We're going to watch them come out. They're going to fly away. Your butterfly might be able to find your home, because they know special things."
Giggling and gasping, the students watched as the teachers opened the butterfly nets to release the pets the students had nurtured since the caterpillar stage.
Some of the butterflies spread their wings and left immediately, while others needed a bit more coaxing.
"I've never had them wait so long. They just like it; we provide such a nice home for them," Kelly told the students.
Soon, dozens of little hands were picking up the butterflies and helping them on their way.
"I see a lot of butterflies," said student Maddie Martin. "Look! Look! I got one."
The life cycle lesson began for the students three weeks earlier with the reading of Eric Carle's ever-popular book "The Very Hungry Caterpillar," first published in 1969.
Soon the students were scientists, feeding furry caterpillars and watching them enter the cocoon stage until they blossomed into butterflies.
Throughout the process, they kept science journals to chart the creatures' progress and read other popular Carle books.
Working in groups, they also painted pictures of the stages, from egg to butterfly.
Kelly, who has used butterflies for the life cycle unit for at least five years, said it's one of the most popular activities every year among her students.
As she watched the final butterflies leave their net, student Corrine Riddle said she would rather be a butterfly than a caterpillar "because they fly around."
"I like the butterfly spreading its wings," she said.