Lions take Sunflower by storm
Froelich leads
LHS

golfers to tournament title
Kansas City, Kan. — The Lansing High varsity golf team hoped to put its skills to the test during its first tournament of the year Saturday at the Sunflower Hills Invitational.
Instead, the Lions got a lesson in mental toughness.
A light smattering of sprinkles, heavy winds in the 30-40-mile-per-hour range and a copperhead snake in the hole on No. 12 tested the golfers' resolve all afternoon, but the Lions never wavered.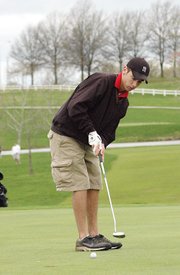 Of the seven teams at the tournament, Lansing was the only one to have no players shoot 100 or higher. Led by senior Stefan Froelich's third-place score of 87, Lansing defended its team title with a four-person score of 364. Basehor-Linwood was second with 369 and Immaculata rounded out the top three with a 388.
"It was a tough day to play," LHS coach Bill Pekarek said. "It was kind of miserable. It was windy. It was cool. There was a little bit of rain involved in it - and a snake in a hole. The fairways were saturated.
"It was a tough day to play, and we really had to stay mentally focused to play through it."
Froelich said his experience as a fourth-year varsity player helped him handle the less-than-ideal conditions.
"As a senior, I've seen all types of weather," he said. "That's what gave me an edge and helped me deal with it."
In addition to Froelich's third-place finish, junior Maria Jackson placed fifth with a 90, junior Zach Robinson placed seventh with a 92, senior Ryan Willcott was 11th with a 95 and sophomore Josh Greene had a 99.
Pekarek said it was Robinson's score that made the biggest difference. He entered the tournament as Lansing's fifth man, but he had the third best score of the five LHS golfers. His score allowed Lansing to leapfrog Basehor into first place.
Robinson admitted he was surprised that his score was good enough to make a difference, but he said he was happy to contribute.
"I thought there were going to be some 80s," he said. "But then again, the weather came into play. I didn't do real good on the first nine, but then on the back nine I played some solid golf."
Froelich said the Lions' strong showing in adverse conditions on Saturday would give them confidence for the remainder of the season.
"We're starting out with a bang this year with a win, so we've already set the bar," he said. "Now we've just got to perform from here on out."
Lansing returns to action at 9 a.m. Monday at the Gardner-Edgerton Invitational.