WaterOne explains county plans
Despite some public protest, a Johnson County public utility will proceed with plans to use Leavenworth and Wyandotte County land to draw water from the Missouri River.
More than a dozen residents from both Leavenworth and Wyandotte counties brought questions and concerns for officials associated with Water District No. 1 of Johnson County's expansion project on Thursday night at the 4-H building in Lansing.
WaterOne has announced plans to build a water treatment facility and residual monofills on approximately 300 acres of land it currently owns southwest of Kansas Highway 5 between the Archers Daniels Midland grain elevator and Lakeside Speedway.
The undertaking, which project manager Michael Horsley of Black & Veatch said is scheduled to take around 30 months to complete, will provide 150 million gallons of drinking water per day for the growing population in quickly developing southern Johnson County.
Residents living near the proposed site brought up concerns over the location, the construction and the environmental effects of the facility.
"Personally, it seems to me that you could have put this in Johnson County, but you didn't want to take any of that precious land," said Steven Miller, a employee with Broadway Electric of Kansas City, Kan.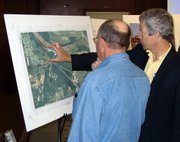 But, according to WaterOne general manager Michael Armstrong, by nature, the treatment plant must be located close to the source: the Missouri River.
"It would be virtually impossible to pump untreated water along a pipeline to Johnson County : because it is so difficult and expensive to transport," Armstrong said, adding that the Missouri River is the most favorable source since it has about 20 times the flow of the Kansas River, the only other real option.
Miller also argued against WaterOne's decision to use Wyandotte County's Board of Public Utilities, a nonunion utility, to power the treatment facility.
More general concerns voiced Thursday dealt with the noise and nature of construction around the site.
Horsley also said that construction noise would be minimal and that studies were conducted to determine the impact of blasting and other louder practices.
For Leavenworth County residents, a main concern was the environmental effects of the monofills that will be constructed on county land.
"'Monofill' is basically a fancy name for a holding pond for the residuals that come off the treatment plant," Horsley said. "They are made up of nonhazardous constituents from the river."
Though there were worries expressed about groundwater contamination, Horsley maintained that in regard to the residuals stored in the soil, "there is no concern of a health threat."