Hits aplenty as
LHS

sweeps

IMAC
As far as season openers go, Lansing High baseball coach Troy Andrews couldn't have asked for a better performance than the one his team turned in Monday against rival Immaculata.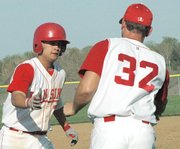 Playing in front of a home crowd on a warm, sunny afternoon, LHS rode the momentum of senior pitcher Matt McMillin's four-hitter and a three-run homer by junior second baseman Johnny Stratton to claim a 14-2 victory in game one. The Lions sizzled at the plate again in game two as they smacked 11 hits and rolled to a 17-1 victory.
"We were patient at the plate, didn't swing at a lot of bad pitches, put the ball in play and hustled out a lot of stuff," Andrews said. "Offensively, that is what we needed from these first two games to get things rolling."
Immaculata (0-2) actually took a 2-0 lead in the top of the first inning in game one as Mark Scanlon and John Thomas hit back-to-back doubles, but Lansing responded with five runs in the bottom half of the inning. Sophomore Chris Grady led off with a walk, advanced to third on Stratton's double to right field and then scored on a passed ball. Stratton scored on a base hit by senior Kyle Miller. Miller scored on an error. Senior Tylor McNeill and junior Elias Moya both reached base on walks, and both scored on a base hit to right field by junior Kyle Hutchison.
Ahead 5-2, Lansing never looked back. McMillin struck out the side in the second - part of his 10 strikeout effort - and LHS added another run in the bottom of the inning when Miller scored on a ground ball by sophomore Taylor Majure. The Lions put the game away with a six-run third that included Stratton's three-run blast to left field.
Photo Gallery
LHS baseball team sweeps Immaculata
McMillin praised the team's younger players - guys like Grady and Majure - for performing at a high level during the game. He said the early doubleheader was a great opportunity for the new varsity players to show their stuff and build some confidence.
"It isn't going to be the best team we'll play, but you can just look at individual talents and see how everybody is going to represent themselves in a game," McMillin said. "And everybody stepped up. It wasn't just one person."
IMAC took a 1-0 lead in the first inning of game two, but LHS scored five runs in the bottom half of the inning on the strength of doubles by McNeill and Majure. The Lions piled on 12 more runs in the second inning before securing the run-rule victory.
Stratton, a third-year varsity player, said he was impressed with how focused the Lions remained during the lopsided victories. He said that was a sign of maturity for a team that is replacing six starters from last year's state tournament team.
"I'm really happy how we came really prepared to play," Stratton said. "You can't really ask for more. We swung the bats well, played good defense, had good pitching and were aggressive on the base paths. I think we were pretty solid today."
Lansing (2-0) next plays at 4 p.m. today against Mill Valley at the 3&2 West Complex.