Lansing cruises past Immaculata
This time it was the offense's turn to practice.
Five days after its defense faced constant pressure during a 5-0 setback to Blue Valley West - last year's state runner-up and the 2005 state champion, the Lansing High girls soccer team got its offense back in a groove with a 10-0 victory over Immaculata at Lansing Middle School.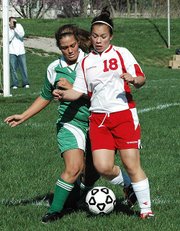 Eight different Lions scored in the victory, including a pair of goals from junior Erin Griffen and senior Bianca Manago. Manago also had two assists.
Lions uncorked 38 shots while junior Katie Nietzke went untested.
The ability to focus on offense was a welcome change for LHS after it failed to fire a shot against West.
"We didn't really have as much of an opportunity to shine (against Blue Valley West)," Manago said. "This allowed us to show the depth that we have on offense because we had eight different scorers."
Lansing kept the ball in the offensive third of the field for a majority of the game, and LHS coach Rob Elkins said his team used that opportunity to work on setting up attacks by "playing toward a space instead of playing into our opponent."
The Lions struggled at times to set up attacks while playing into the wind during the first half, but they still built a 3-0 lead by halftime.
Manago opened the scoring in the ninth minute when she received a pass from Rachel Pride, and slipped a shot under the Immaculata goalkeeper from close range. LHS scored again 14 minutes later when Kristen Huffman knocked home a shot from 10 yards out off a pass from Manago. Griffen capped the first-half scoring in the 31st minute on a 15-yard blast during a scramble in front of the goal.
Manago scored her second goal less than three minutes into the second half off a nice feed from sophomore Kathryn Sebes. That sparked an onslaught of shots from Lansing the rest of the half.
Griffen said the Lions were too eager to score at times, and as a result they didn't convert on some opportunities.
Photo Gallery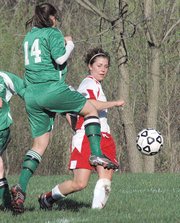 Lansing 10, Immaculata 0
"We just get freaked out thinking that we always have to score," she said. "Instead of focusing on quality play, we're always going to the goal and taking shots."
The Lions' second-half goals mostly came off of well-organized possessions. Pride, Abby Hauver and Lauren Elkins all scored during an eight-minute stretch before Griffen, Brittany Swisher and Christine Cordes capped the scoring.
The victory improved Lansing's record to 2-1 overall and 2-0 in the Kaw Valley League. LHS now has the upper-hand in the race to become the league's first champion, but Manago said the Lions know they won't have an easy ride to the title.
"Everyone brings their 'A' game against us, so that only helps us get better," she said. "We're focused on winning the Kaw Valley League, but we're more focused on going on to regionals and state, and when everyone brings their 'A' game against us that helps us get better."
Lansing next plays at 4 p.m. today at Ottawa in the first of back-to-back non-league games. LHS also plays Topeka Cair Paravel at 6 p.m. Monday at LMS before playing host to a KVL contest at 6 p.m. Tuesday against Bonner Springs.