New kids on the track
Freshmen fantastic at Lansing Invitational
Usually coaches have four years to watch young athletes blossom from gifted athletes loaded with potential into meet dominators.
Lansing High's track coaches had just five days.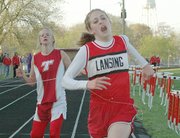 After watching freshman Brandon Craig place fifth in the 1,600-meter run and freshman Lauren Jaqua place sixth in the same event on Friday at the Baldwin Invitational, the young runners were back on the track Tuesday evening at the Lansing Invitational.
Both ran better races strategically, and both placed first in a surprising freshman sweep. Craig won the boys' race in 5:04.42. Jaqua was the girls' champion in 5:57.54.
"I was so happy when Brandon got first too because we're such good friends and we work really hard at it," Jaqua said, adding that the two have been teammates since seventh grade.
Neither ran quite as fast Tuesday as they did at Baldwin, but a 35-mile-per-hour headwind on the backstretch had plenty to do with that. The difference, though, was in how they raced. Both went out too slow at Baldwin, got trapped in the pack and had energy left over after the race.
On Tuesday, both Craig and Jaqua pushed to the front of the pack at the beginning. Jaqua led start to finish and used a surge early in her fourth lap to hold off Christy Weller of Tonganoxie in a close finish. In the boys race, Craig sprinted the first 300 meters and then ran shoulder-to-shoulder with Tonganoxie's Chris Price the rest of the way before outkicking Price to the finish.
"There was twice he could've settled for second place, and he refused to do so," LHS coach Errol Logue said of Craig's gutsy race.
Craig said he simply responded to a challenge from Logue and LHS distance coach Melanie King.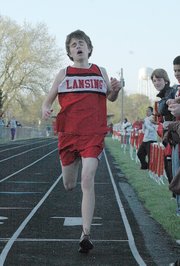 "They told me to try to get in front the whole time, so that's what I did," he said. "At the end of it I felt way more tired, but I thought I ran a better race."
Craig and Jaqua weren't the only freshmen to turn in solid varsity performances, though. Freshman Sarah Nielsen ran the third leg on the 3,200-meter relay team that placed third. She also placed fourth in the 800-meter run. Freshman Madison Brandt placed fourth in the 400-meter dash, ran the first leg of the third-place 1,600-meter relay team and anchored the 400-meter relay team that placed second. In addition, freshman Carley Brown placed fifth in the 100-meter hurdles; Freshman Mary Meara placed fifth in the 300-meter hurdles and fifth in the 200-meter dash; Freshman Jennifer Totleben was third in the 100-meter dash, third in the 200-meter dash and helped the 400-meter relay team place second; Freshman Cody Filbert was on the second-place 400-meter relay team; freshman Jason Swisher anchored the second-place 1,600-meter relay team.
Also for the LHS boys, Bobby Hauver placed fourth in the pole vault with a personal-record jump of 11-feet, Will Johnson took third in the triple jump with a mark of 40-10, Daniel Eyerly placed fourth in the javelin with a toss of 130-9, Nathaniel Vigil placed third in the discus with a throw of 112-5, Brenton Smith placed third in the 200-meter dash and Adam Vordermark won the 800-meter run in 2:14.46.
Also for the LHS girls, Erin Rogers placed third in the pole vault with a jump of 7-6, Megan Sullivan placed fourth in the long jump with a mark of 14-5 and senior Riann Deere won the 200-meter dash in 27.5 seconds.
Logue said he was pleased with his team's all-around performance.
"Our veteran kids are showing improvement, and we've got a great bunch of freshmen, boys and girls, both numbers-wise and talent-wise," Logue said. "It's looking up. We're definitely a better team than we were last year."
Lansing next competes at 4 p.m. today at Basehor-Linwood.