Cordes catches fire as
LHS

routs Ottawa
The offense clicked, and Christine Cordes was the biggest benefactor.
The Lansing High junior forward netted five goals on Thursday afternoon as the LHS girls soccer team rolled to a 10-0 victory at Ottawa.
It marked the second straight game that Lansing has won by a 10-0 margin. It defeated Immaculata by the same score on Tuesday, but LHS coach Rob Elkins said his team played much better against Ottawa.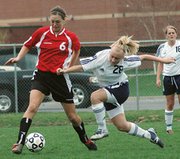 "The girls were more disciplined," he said. "They were practicing more patience. When the shot wasn't there they would move it around to where there was a better opportunity for a shot ro there was a player we could play into. The communication was much better and they made better choices."
Lansing's first goal came 11 minutes in, and it had an Ottawa assist. Senior forward Bianca Manago fired a shot that deflected off an Ottawa defender and into the goal for an own goal.
After that, the floodgates were open. The Lions needed just 49 seconds to score again as junior Erin Griffen crossed the ball to Cordes who knocked it in from six yards out.
Manago capitalized on a pass from junior Sarah Sargent in the 24th minute and gave Lansing a 3-0 lead. That margin stood through halftime.
After the break a light snow began to fall, but the Lions warmed up on offense. They scored seven goals in the next 23:32 and completed the mercy rule victory.
Manago recorded a pair of assists during a 30-second span as Cordes and junior Lauren Elkins scored goals that extended the lead to 5-0.
Cordes scored her third goal in the 45th minute after junior Rachel Pride fed her a nice through ball. Senior Abby Hauver extended the lead to 7-0 when she received a pass from Sargent near the top of the box and fired home a shot from about 25 yards out.
Cordes and Manago took care of the final three goals. The first came when Cordes made a run at the goal, lured the goalie out and then cut the ball back for a wide open look at the back post from 10 yards out. Cordes added her fifth goal in the 64th minute when Manago centered the ball to her and Cordes buried it into the high left corner from 10 yards out. Manago ended the game 29 seconds later when she made a solo run from 25 yards out, dribbled through the defense and placed a shot into the far corner from five yards out.
Rob Elkins said Cordes' large tally of goals came from improved shot selection, but he also said she was in the right place at the right time.
"She just happened to be the one in position to finish a good pass in most cases," he said. "Bianca could've been the five-goal person, or Rachel, but Chrissy was on the receiving end of some good balls."
The coach also said he was pleased that his players stayed focused during the lopsided game and used it as an opportunity to practice things that will help the Lions in future games.
"We have to build up for some pretty tough games coming up," he said. "When we start playing Kansas City Christian, Olathe Northwest - and De Soto's pretty good and Basehor's pretty good - it's going to be quality play that wins those games, so we need to practice that."
Lansing next plays at 6 p.m. Monday against Topeka Cair Paravel.
JV PICKS UP FIRST WIN
The Lansing High junior varsity girls soccer team collected its first victory of the season on Thursday as it disposed of Ottawa, 5-0.
Despite the frigid weather, the Lions heated up on the offensive end. After being shut out in their first two games, they found constant success when shooting the ball.
Ashley Harrington scored two goals, Katie Marton scored twice and Elle Hauver added a goal in the victory. Tayler Dumlao earned the shutout.
The JV Lions (1-2) next play at 4:30 p.m. Monday against Topeka Cair Paravel at Lansing Middle School.