Mill Valley sweeps
LHS

in baseball twinbill
Shawnee — The Lansing High baseball team's youth showed itself Thursday as LHS endured growing pains and frigid weather while being swept by Mill Valley at the 3&2 West Complex.
Mill Valley capitalized on Lansing's errors and rallied to take game one, 13-6. The Jaguars then cruised to an 11-0 victory in the nightcap.
Photo Gallery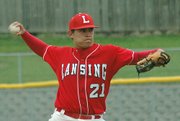 Mill Valley sweeps LHS baseball
"We made some mistakes against Immaculata (on Monday) and they didn't capitalize on them," LHS coach Troy Andrews said. "Those mistakes don't snowball on you like they do against a better team. Mill Valley is a good team, and they capitalized on them."
Lansing (2-2 overall, 1-1 Kaw Valley League) took charge early in game one when sophomore Peter Gibson laced a one-out single to left and senior Kyle Miller smashed a two-run homer to left field.
LHS rode the early lead with junior Johnny Stratton on the mound. Stratton, the Lions' regular second baseman, allowed just one hit and struck out three in the first two innings before the defense collapsed on him.
Nursing a 2-0 lead in the bottom of the third, Gibson made an error that allowed the Jaguars' leadoff runner to reach base. That runner ultimately came around to score, but the Lions should have survived the inning mostly unscathed. Up 2-1 with two outs, Stratton struck out the batter. The third strike was in the dirt, however, and when catcher Elias Moya prepared to throw to first base to complete the out, first baseman Kyle Hutchison didn't cover. Mill Valley used two walks and four hits after that to take an 8-2 lead by the end of the inning. All of the runs were unearned.
"Having some young kids, you know that you're going to have those innings and you just hope that it doesn't snowball on you," Andrews said. "You know you're going to have those lapses and those mistakes, and we showed that tonight against a good team."
Although frustrated, the Lions didn't fold. Stratton and Kris Hernandez singled and scored in the top of the fourth to cut the deficit to 8-4, but two runners were left in scoring position.
Mill Valley added a run in the fourth and four in the sixth to extend its lead. Moya singled and Mike Nielsen walked in the top of the seventh. Both scored, but Lansing never got any closer.
The Lions mustered just three hits in game two compared to nine for the Jaguars. Two of Lansing's hits were by senior Matt McMillin.
The sweep ended Mill Valley's slump after an 0-3 start, and it humbled Lansing after the Lions cruised in their season-opening doubleheader against Immaculata. LHS will try to turn things around at 4 p.m. Monday when it plays at Turner.
"Getting swept gives you a bad taste, so you want to get back out there quickly and see what you can do," Andrews said.