After extensive search, Burton signs with Baker
The search lasted more than six months, but Lansing High senior goalkeeper Alex Burton finally has found a new home.
Burton, an All-State first-team selection and a two-time All-Kaw Valley League and Central Region first-teamer, visited about 14 schools including a handful of NCAA Division I institutions before deciding on Baker University in Baldwin.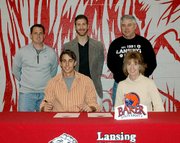 "I would've gone anywhere that I felt was right, but lucky enough I found it right here," he said of going to school just 50 miles away from Lansing. "I got really fortunate with the whole situation."
Burton said the recruitment process was exciting at first, but he admitted it grew taxing as he took more visits and struggled to find a situation he was comfortable with. He visited big schools and small schools, close to home and far away, but nothing felt quite right.
"I kind of got down and thought I wasn't going to find a place," he said. "Luckily enough for me, coach (Kelly) Wolverton called me and asked if I'd signed yet."
Burton was familiar with the Baker soccer program because he'd known former players who'd been successful there. He also played for former Wildcats coach Ron Pulvers for a few months when Pulvers coached Burton's club team.
When he arrived on campus, Burton said he was impressed right away with the coaches and facilities.
The final stamp of approval came when Burton met the team.
"I came up there not knowing anybody," he said. "I knew guys that had graduated and been there, but I didn't know anybody there, and yet I fit in where I didn't fit in at other schools as well."
HARD WORKER
Burton didn't become one of the most dominant prep goalkeepers in the Midwest overnight. It took years of hard work. Jon Parry witnessed Burton's development first-hand during the past eight years as Burton's club coach for the Blue Valley Stars Real.
Parry witnessed Burton's transition from field player to goalkeeper, and Parry said Burton's knowledge of the other positions made him a more valuable goalie.
"As a young kid he was always playing in the field too, so he's very good with his feet," Parry said. "Being a goalkeeper these days you have to be very good with the feet, so that's another great attribute for him."
Burton helped the Stars to the under-17 Kansas State Cup title and a berth in the Region II Cup last summer.
A FORCE AT LHS
Lansing boasted a high-octane offense during the 2005 season, but Burton was the perfect complement at the other end of the field. He posted nine shutouts and allowed just 17 goals while helping the Lions post a 16-3 record and advance to the state quarterfinals.
Burton had seven shutouts as a senior and allowed 28 goals as LHS went 13-4-1 and made it to the regional finals.
"We're going to have a heck of a time replacing him," LHS coach Randy Brown said. "The last couple years he's been just a super goalkeeper, and he's done some great stuff for us."
READY TO COMPETE
Burton said he is excited to begin his college soccer career, but he knows there are no guarantees when practice begins.
Baker returns two goalkeepers from last year's team. Another freshman keeper, Class 6A All-State selection Andrew Dale of Topeka High, also will join the roster in the fall.
"We fully expect him to come in and compete right away or we wouldn't bring him in as a freshman," Baker goalkeepers coach Clint Schneider said. "He has the ability to play for us right away."
The Wildcats posted an 8-9 record last year. Eight of their losses were by one goal. Knowing that, Burton said he is eager to join the team and try to make a difference.
"I'm hoping to stop that one goal," he said. "I'm going to train extremely hard, because it's not an easy position to win. I'm going to have to work my butt off all summer, and once I get there I plan on training hard. Hopefully I'll win the spot, win the respect of the team, and I'll be able to step in there and make some changes."