Baughman second at Brute
15 local wrestlers earn All-American recognition at national tourney
Kansas City, Mo. — Decked out in flannel pajama pants and a camouflage Eric Akin wrestling T-shirt and visor, Tyler Baughman blended right in with the 1,800 other wrestlers that packed the KCI Expo Center on Saturday at the Brute Adidas Folkstyle Wrestling Nationals.
On the mat, however, Baughman stood out as one of the best wrestlers in the tournament.
Competing in the 141-pound weight class in the eighth-grade division, Baughman placed second overall and became one of 15 wrestlers from the area to earn All-American honors.
Photo Gallery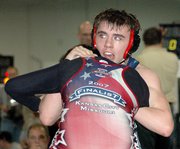 Brute Adidas Folkstyle Wrestling Nationals 2007
After a first-round bye, Baughman pinned Michael Aumer of Pennsylvania in 46 seconds and advanced to the semifinals. Baughman edged Stormy Hild of Illinois, 3-2, to advance to the finals.
Baughman took an early 2-0 lead on Missouri's Patrick Rhoads in the finals before Rhoads rallied to edge Baughman, 5-4.
"It's never fun to lose, but it happens," Baughman said. "Getting exposed to people from all over the country who are top-notch wrestlers : just wrestling them is great."
For Baughman, the All-American honor was the latest accomplishment in a successful folkstyle season. He placed second at the USA Kansas Kids State Tournament on March 25, and on Feb. 24 he placed first at Liberty Nationals.
Although Baughman was disappointed with his second-place finish, he was pleased to see so many other local wrestlers be successful. His Slammer Wrestling Club teammate, Elijah Hill, earned All-American status by placing fifth in the third-grade, 90-pound division.
In addition, the Leavenworth County Spartans had 13 All-Americans. Nathan Butler was the Spartans' top placer as he finished third at 127 pounds in the sixth-grade division. Fourth-place finishes were turned in by Dylan Gowin (second-grade, 52 pounds), Bo Allen (eighth-grade, 163 pounds) and Nick Reeb (fourth-grade, 55 pounds). Brock Budke (second-grade, 52 pounds) and Spencer Blew (eighth-grade, 118 pounds) placed fifth. Nick Flynn (junior division, 148 pounds), Dalton Watkins (second grade, 55 pounds) and Mike Beachem (freshman division, 138 pounds) placed sixth. Dillon Davidson (freshman division, 174 pounds) was seventh. Dillon Scanlon (eighth-grade, 133 pounds), Daniel Butler (second grade, 61 pounds) and Phil Witt (junior division, 163 pounds) rounded out the medalists with eighth-place finishes.
"I am so proud of these kids on multiple levels," Spartans coach Shawn Budke said. "Not only their wrestling level, but with the dedication and the work ethic that they've shown on and off the mat this weekend. None of them ever quit; they all wrestled; they came back strong. We had some that were in 64-man brackets that lost but still came back and got eighth and wrestled seven or eight matches."
Flynn, a long-time regular face at national tournaments, said he was excited to see so many of the younger wrestlers do well at the tournament. In particular, he mentioned those that will be joining him on the Lansing High squad next year.
"I think the biggest thing that helped was getting the younger guys out here for exposure to these big tournaments so they're not starstruck next year at Bobcat (the Bobcat Classic), state and all those big tournaments," he said. "I was excited for all of them : especially for Dillon (Scanlon), Spencer and Tyler Baughman who will be in high school next year. This is great experience for them."